"The Dirty at 12:30" is a FREE late-night stand-up comedy show every Friday night inside the Grandview Lounge in the Southpoint Hotel and Casino. Expect foul language (yay!) and club drink prices (boo!)  21+
To make it worth our night, let's pre-game at the best place to get buzzed for cheap while attempting to pay attention -- the BINGO ROOM!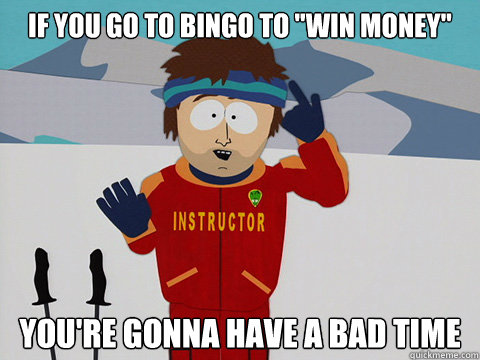 The key to enjoying Bingo is to pay as little as possible, drink as much as possible, and laugh at how upset the blue-hairs get when someone else wins first.  I say blue-hairs, but I'll grumble "asshole" along with the rest of the losers. ;-)  The 11pm session has a $3000 cashball bonus.

Sure, you can load up the electronic machines with $30 in cards and still have 1% chance of winning ... or you can sit back with a $5 Blue Pack and daub at your leisure -- the cards, or each other, the night is full of possibilities.  You can also get ballsy and take on the more complex Rainbow Pack, but this is for skilled players only, with no intention of conversating!  Our drunk asses have laughed at many a lady who took on The Rainbow and frantically screamed "Slow down!!" while falling behind on the cover-all.  If you've never played casino Bingo before, Cynthia will give you the two-minute tutorial on the best way to waste an hour gambling in Vegas for a few bucks and a few drinks.  See how she earned her nickname The Double Hard-Way™!
http://www.facebook.com/dirtyat1230
Bonus Hot Tip: The Steak n Shake diner is a great bargain for dinner before the event -- a whole $4 menu of burger and fries!  The wait to get in can be long on weekends, so you might want to get there before 9pm for enough time to eat. <3