• This meetup has yet to assign a host, and the listed date & time is close, but not exact. The host and time will be announced on this page, late-May. If you want to become the host, please contact our group's organizers. 

• To ensure you have an excellent experience, please read everything below.
• By RSVPing "Yes", attending this or other Fruitluckk meetups you respectfully agree to the Fruitluckk Meetup Group's guidelines, liability release & media release.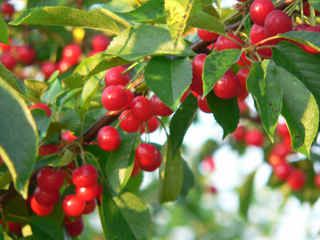 Join us for the day to pick and enjoy one of nature's sweet treats at TWO neighboring ORGANIC cherry farms- Copeland's Cherry Ranch & Leona Valley Organics! We'll pick'em together, then eat'em together! Families & friends welcome! Copland's welcomes dogs, but due to roaming ducks they must be friendly obedient & leashed. For Leona's dog policy please contact them.
If you can't join us, Copeland's will usually be open everyday 8a-5p from about June 1 til they're gone, usually within 2wks, and Leona will be open 9a-5p for 2 consecutive wknds starting about the 4th wknd in May, but before you leave, call them both for updates the day of. If any member wants to host their own meetup for their own trip, please contact our group's organizers for help.
If lost, call Event Host X[masked]-0000. Not liable for bad reception or missed calls. 
WEATHER 
Historical Avg 88/56 F | 31/13 C, but plan on it being sunny, hot, dry & windy! Dress & hydrate accordingly! The 2013 meetup was severely handicapped, but not canceled due to the Powerhouse wildfire.
ITINERARY 
• 9:15a - Optional (but highly encouraged) Meetup* in Noho for Carpool** 
• 9:45a - Carpool Departs sharply to Cherry Ranch: we gots ta go w/ or w/o cha 
• 11:00a - Arrive at Copeland's & Pick*** 
• 1:00p - Picnic at Copeland's with lots of tables under shady trees: outside food welcome 
• 2:00p - Depart for Leona Valley Organics 
• 2:15p - Arrive at Leona's & Pick*** 
• 3:00p - Depart for Noho Carpool Location 
• 4:00p - Arrive at Noho Carpool
* We'll decide at Carpool Location which cars to take. You may instead meetup at an alt-carpool location and/or directly at Copeland's. 
** Before arriving at Carpool Location use bathroom & top-off gas tank. 
*** You're encouraged to taste a cherry or two before you decide what varieties to pick, but NO GRAZING, let's support these AFFORDABLE SMALL FAMILY ORGANIC farms by paying what we pick before we eat. 
CARPOOL LOCATION 
In front of Ground-level Elevator Doors at: 
Metro Red Line NoHo Station + Park & Ride 
5373 Lankershim Blvd, NoHo, CA 91601 
(Free Car & Bike Parking for transit riders. Cars enter on Cumpston or Fair.)
Take Public Transit to Carpool Location, it's a Hub for: 
• Metro: Red & Orange Line; Bus Lines 152, 154, 156, 162, 183, 224, 353, 656 
• Burbank Bus: Noho Media District, Noho Airport Area 
• LADOT Commuter Express: 549 
• Santa Clarita Transit: 757
ALT-CARPOOL LOCATION 
You may create multiple carpool meetup locations by posting below. Find any SoCal Park & Ride Lot here.
CHERRY LOCATIONS 
• Copeland's Cherry Ranch 
9611 Leona Ave, Leona Valley, CA 93551 
[masked] 
[masked] 
website | facebook | yelp 
Free & ample parking on Ave. Married owners are extremely friendly, helpful & gracious! If you can't attend, please go support another time. 
• Leona Valley Organics 
39300 Bouquet Cyn Rd, Palmdale, CA 93551 
[masked] 
blog article | yelp | LocalHarvest 
Follow signs to unpaved road. Free parking on unpaved parking lot. Partially-shaded picnic tables, port-a-potty & small handwash station available. Younger farm, trees fairly exposed.
BRING 
• $10 cash per person for carpool passengers to pay directly to their driver 
• Cash, check or credit card for $x/lb u-pick cherries (in 2013 they were $4.25/lb, and at Whole Foods they were $8.99!) 
• Closed-toe shoes: Ranch request due to weeds & debris 
• NO ladders: trees are perfect size for picking, from toddlers on up
BRING (Optional) 
• Whole fresh ripe raw preferably organic, heirloom and/or exotic fruits & shoots to share 
• Mess kit: plate/bowl, utensils, napkin, cup 
• Hat 
• Sunglasses 
• Camera 
• Water 
• Sunscreen or protective clothing 
• Cooler: keep your cherries cold on the long drive home 
• Scissors: to keep stem on cherry, otherwise when picking cherry leave stem on tree to prevent damage to spurs, which are the short twiggy branches that grow out of the tree's older branches and produce next year's crop
FARMS PROVIDE 
• Buckets 
• Paper bags 
• Water & pre-picked cherries for sale
CHERRY VARIATES 
• Copeland's - lots of Bing & Utah Giant, some Rainier, a few Tieton & Benton on 470 trees! 
• Leona's - ?, 700 trees. 
• Both have sun-dried cherries on the tree! They're smaller, crunchier, sweeter & more flavorful than fresh ones in stores, it's Cherry Heaven!