Spring Ride Manifesto: Carmel Valley Road, King City, Hwy 25


When: Saturday 3/22/14, Arrive by 9:30 AM,  KSU 10:00 AM
•Where: Suft City Coffee, 7990 Cabrillo Hwy 1, Moss Landing, CA
• Pace: Not too slow.  Not too fast.  Just right.
• Gear: Head to toe.
• Motorcycle: Yes, please bring it with you ;-)
• Route: ~  160 (+/-)  miles of great roads of the South Bay, Monterey Peninsula and inland.  We'll end the ride around 5 PM at Hollister Starbucks, and then break into groups and head home. Not for total newbies.
• Pre Rides to MeertUp Location, Surf City Coffee :  
(1)  Meet Mehran at
>>> a) Starbucks at 14777 Los Gatos Blvd, Los Gatos (right off Hwy 85) at 7:30 AM, KSU 7:35 AM
- or -
>>> b) Summit Store at 24197 Summit Rd, Los Gatos. Meet at 8:00 AM, KSU 8:05 AM.  We'll then take a leisurely ride down Soquel-San Jose Rd to 1 South and to Surf City.
- - - - - -


(2)  Marty will lead a brisk pace pre-ride for very experience riders from Starbucks at 4848 San Felipe Rd, San Jose.  Arrive 7:30 AM.  KSU 7:45 AM. Map link = http://goo.gl/maps/zlvps Get your pre-ride gas here: http://goo.gl/maps/dZc1D Grady, Don't be late this time!
 LUNCH is in KING CITY: We will use " Tacos La PotrancaDe Jalisco " at 201 Broadway as our base, but there are other restaurants nearby and across the street as well. Remember, after lunch don't take a nap or go shopping. Come back to the group so we can leave on time. KSU is 1 hour and 5 min from we arrive. We'll get gas after lunch.
On the menu: Carmel Valley, Jolon, King City (lunch stop), 25, etc.
GPS Route: >>>>>>>>>>> CLICK HERE
or this: http://files.meetup.com/1253604/CarmelValley-2014March.gdb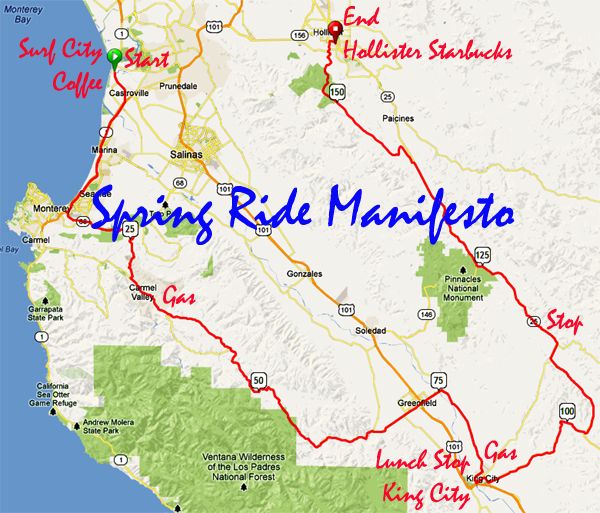 Words of Wisdom:



~ Please review Liability Release statement at THIS LINK
 ~ Proper gear, a working machine and gas in the tank is highly recommended.



~ Ride within your comfort zone and leave room for bad karma.



~ I may pass slower traffic when it's safe. You don't have to. Remember, someone will wait for you at turns, so just relax and have fun.



~ I maintain the Pace according to road conditions with safety of all riders in mind. Be mindful of others in the group. Let faster riders get ahead of you by moving to the right and signaling them to pass you. And if you want to pass the rider(s) who are in front of you, make sure to do so safely and without startling them.


~ If you know the area and would like to sweep for the group (AM shift, PM shift or both), please let me know.



~ Good stuff to read before going on group rides (CLICK).
~ Keep an eye for the rider(s) behind you so they won't take a wrong turn. If they get lost, you'll buy their lunch


Bay Area Weather Outlook: