Infinite and instant, Zazzle is the only, on-demand retail platform for consumers and major brands, offering billions of retail quality, one-of-a-kind products shipped within 24 hours. Offering the largest library of customizable digital images from world-class brands, Zazzle enables content owners to unlock their entire libraries of content, making it available for purchase and customization by consumers. Through Zazzle's innovative on-demand retail and technology platform, users can instantly create, customize to fit their personal style, purchase and sell a near infinite array of products online. The company launched in 2005 and is based in Redwood City, California. For more information, visit
http://www.zazzle.com/
­.
Position Overview
This person will be a critical part of the Engineering Team, reporting to the Chief Technical Officer. The Senior Network Engineer will perform network and security monitoring, auditing, and logging for front-end firewalls to ensure stability of the production site. In addition, he/she will provide management and maintenance for IIS web-servers on the production environment while adhering to Microsoft industry standards such as OS, hardware, and application compatibility for high volume web traffic. The Senior Network Engineer may supervise from 1 – 5 Network Engineers, while providing twenty-four hour on-call services as part of the IT/Site Operations team.
Responsibilities


Maintain site-to-site VPN connection for manufacturing, engineering, and business departments.

Log, document, collect data and work with Software Developers for effective network troubleshooting of various site issues such as slow site browsing, http error messages, and application recovery.

Write scripts to monitor and automate processes for troubleshooting and application recovery.

Collaborate with Quality Assurance team to ensure successful new application release deployments by preparing and uploading web servers.

Collaborate with engineers in the design and architecture of a production site for hundreds of servers by mimicking the existing production servers to establish redundancy and recovery from catastrophic failures.

Repair packs and general system administration issues in conjunction with system hardware vendors for ongoing support issues to both stabilize and update the production environment.

Educational/Experience Requirements:


Bachelors in Computer Information Science, Information Technology or related field and 2 years experience in the job offered or in a related Network Engineering or Information Technology position.

Additional Requirements:


Experience and/or education must include 1) IIS Server Software, 2) Architecture and Implementation of Windows multi-site configurations, 3) Network security experience, specifically physical security, access control, policy-based restrictions, firewalls, security software, auditing and scanning, 4) Network design, specifically switching, routing, firewalling and VPNs; and 5) Experience with Microsoft, HP, Dell, IMB, Cisco and NetScaler technology providers. Any suitable combination of education, experience or training is acceptable.

Zazzle is an EOE
To apply for this position please submit y cover letter and resume to:
careers@zazzle.com
Infinite and instant, Zazzle is the only, on-demand retail platform for consumers and major brands, offering billions of retail quality, one-of-a-kind products shipped within 24 hours. Offering the largest library of customizable digital images from world-class brands, Zazzle enables content owners to unlock their entire libraries of content, making it available for purchase and customization by consumers. Through Zazzle's innovative on-demand retail and technology platform, users can instantly create, customize to fit their personal style, purchase and sell a near infinite array of products online. The company launched in 2005 and is based in Redwood City, California. For more information, visit
http://www.zazzle.com/
­.
Position Overview
This person will be an integral part of the Engineering Team. They will collaborate with the team to design and develop new architecture for the organization as well as optimize the current systems.
Responsibilities


To help with Zazzle's data warehousing, analytical engine design, which involves the process of trying out many different AI algorithms and techniques that are highly mathematical in nature. Algorithms such as clustering techniques, SVD, SVMs would be applied on farms of Hadoop clusters running on Apache Mahout and out own custom plugin algorithms. Many of our existing set of engineer all have strong math backgrounds. Programming skills in a high level such as Java or C# is necessary and knowledge of SQL is desirable.

To help with Zazzle's company wide effort to transform the business into a service oriented architecture, including the design, development and optimization of our product, search and checkout services. Help build a loosely couples multi-tier, invalidatible caching system of multiple granularities. Database and middle tier technology with a focus on systems development is needed. We will program both on Windows and Linux platforms.

Requirements


Extensive knowledge of Java, C#

Experience with SQL and MySQL is preferred

Excellent mathematical capabilities

Knowledge of clustering techniques, SVD, SVM on Hadoop running on Apache Mahout

Ability to meet deadlines and work collaboratively with multi-level engineers and QA

Course works and/or experience in database, data warehousing, data mining, operating systems

At least 2 years of experience

Excellent opportunity for a brilliant, detail-oriented, attorney to work in a dynamic organization, while providing sound legal advice regarding the development and marketing of products and services both domestically and internationally. We are a rapidly growing e-commerce company with an amazing culture. We are a seeking a results oriented individual with a proven track record and a sparkling personality to match.
Responsibilities


Draft and negotiate license agreements, technology licenses, NDAs, and other general corporate contracts

Provide legal advice regarding development and marketing of new products and services both domestically and internationally

Support the continuous improvement of standard form agreements

Respond to inquiries from, and provide sound legal guidance to, various departments

Assist with analyzing and formulating policies with respect to novel legal issues

Minimum requirements


J.D. degree + California bar membership

3-4 years of experience as an attorney in a top law firm or an established in-house legal department

Strong foundation in intellectual property, technology, and e-commerce law

Proven experience negotiating and documenting commercial transactions with partners and vendors

Well organized with strong ability to manage numerous projects and conflicting demands in a fast-paced environment

Intense ability to research and draw conclusive answers

Flexibility and willingness to work on a broad variety of legal matters

Utmost professional with a great sense of humor

Enthusiastic e-commerce consumer

Local candidates only. No relocation provided.
Check the rest of the job yourselves:
http://www.zazzle.com/mk/welcome/first/jobs
­
Custom T-Shirts, Gifts, Art & more!
Zazzle is the world's leading platform for quality custom products. Zazzle's proprietary technology enables individuals, professional artists, and major brands, including Disney and Hallmark, to create and offer billions of unique products for customers worldwide. Zazzle's rapidly expanding product base covers every topic imaginable and includes t-shirts, business cards, invitations, in addition to a variety of custom gifts. Upon creation, products are instantly and accurately visualized on the site and offered in the Zazzle marketplace. When ordered, each product is made on-demand, typically within 24 hours. Launched in 2005 and based in Redwood City, California, Zazzle's vision is to redefine commerce, powered by the world's imagination.
http://www.facebook.com/zazzle
­
Anything is Possible
"You want us to put a man on the moon in two weeks?... you got it!!" At Zazzle, we never say never. And while admittedly, we don't have plans for space travel, we do have big plans to empower individuals and foster creativity – in fact, it's at the very core of our business and company. We stretch our imaginations, we constantly challenge ourselves and each other, we reject the status quo, we brainstorm and collaborate… and we make a total mess out of our whiteboards in the process!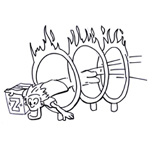 Amaze the Customer
Many companies claim a "customer first" motto. Our mentality borders on extreme: just satisfying a customer's expectations isn't good enough. We strive to amaze, astonish, and delight each customer by not just meeting, but exceeding their expectations in every regard. Delighting our customers delights us. We're addicted to receiving ecstatic testimonials – that kind of positive customer feedback is like oxygen for Zazzlers… we need it to survive.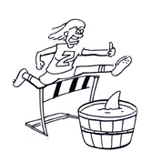 Whatever it Takes
We jump through flaming hoops to deliver on our commitments. Whether that means driving for three hours to hand deliver an urgent order at a customer's doorstep, staying late to meet a deadline, or taking out the trash, we roll up our sleeves and welcome challenges with a smile. We share a "do-whatever-it-takes"­ attitude when serving our users, customers, partners and each other.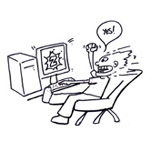 Do the Right Thing
We hold ourselves to the highest standard. We don't compromise on our ethics for any reason, period. We embrace diversity of background and thought, treat each other with respect, and demonstrate integrity in everything we do. And we don't think it's cheesy to say so.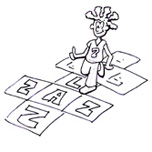 It's Zazzle, Not Zizzle...
There is no "I" in Zazzle! Unlike golf or singles tennis, zazzling is a team sport. Each of us relies on others to be successful and win games. We focus on the team's success above our own personal glory. We watch each others' backs. We aren't shy about asking for help or feedback, always trust and support each other, and believe that every opinion and idea counts.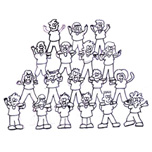 We Party Like it's 1999
What's the deal with people who don't have fun at work?! Seriously, we all spend so much time at the office that we might as well be having a good time. We take every opportunity to celebrate our successes and recognize the extraordinary achievements of individuals and teams. We believe in the power of laughter, silly string, and BBQing.
Zazzle - We make quality custom products designed by you.