All players must RSVP to be guaranteed a place in the game, provided a place exists.  Priority will be given to RSVPs, then to those waitlisted.
Kill Doctor Lucky

The Origins Award–winning board game from James Ernest and Cheapass Games comes to your gaming table in a new full-color, high-quality deluxe edition featuring components on par with the best European board games.
Kill Doctor Lucky pits 3 to 7 players against each other in a race to see who can kill Doctor Lucky. The trick is that all the other players want to do it first and will stop at nothing to prevent you from having the pleasure. And the old doctor has earned his nickname well: he's got more lives than Rasputin and an uncanny knack for dodging your best traps. But his luck can't last forever. Before the game is over, someone is going to kill Doctor Lucky—wouldn't you rather it were you?
Everyone starts in the Drawing Room, and everyone wants to kill Doctor Lucky. Players move around the mansion looking for weapons and trying to catch the old man alone. Trying to kill the Doctor is pretty easy, but every other player can play Failure cards to stop you. Doctor Lucky's luck runs out eventually, though, and you just hope you can catch him when it does.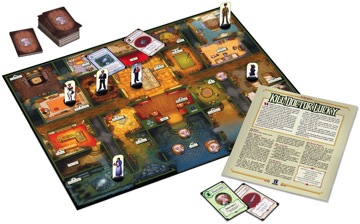 Play the original Kill Doctor Lucky at GameTable Online!
Kill Doctor Lucky Rulebook
The rulebook for Kill Doctor Lucky is available as a PDF. - Download (242kb zip/PDF)
Save Doctor Lucky
April 14, 1912. 
A cold night in the Atlantic. 
An errant iceberg, a titanic cruise ship, and one very lucky old man.
Doctor Lucky is a charismatic and well-respected philanthropist with a heart of gold. Of course, you secretly hate the old bastard, and you're probably going to try to kill him someday. But killing him aboard a sinking ship would be pointless. So you've decided to save his life instead, and do it while someone else is looking. That way, even if you go down with the ship, you'll at least go down in history.
And isn't that what life is all about?
In Save Doctor Lucky, players are passengers on a sinking ship. You have one goal: to save Doctor Lucky's life while someone else is watching. Players rush from deck to deck trying to find items that will aid them, and trying not to see anyone else who might play the hero. But as the ship sinks, the board grows smaller, bringing Doctor Lucky and the passengers together into the few remaining decks.
Save Doctor Lucky Rulebook
The rulebook for Save Doctor Lucky is available as a PDF. - Download (1MB zip/PDF)