[masked])
Ticket numbers are sent to the attendees.
Learning about history always excites me, and this one has been on my list since last year.  It ends on Aug 19th.  Admission is free, but you need to register for admission tickets online at http://www.getty.edu/art/exhibitions/sicily/  I've got 4 tickets and I can give you the ticket number, which you will tell the parking attendant to enter the villa.
To avoid too many last minute cancellations and no-shows, I'm collecting $2 by Paypal.  When I see you at the exhibit, I'll refund you $2 in cash.
Sal, could you recommend any restaurants nearby or in Santa Monica/Westside that serves good Sicilian food?)
See you soon,
Sally
**********
http://www.getty.edu/art/exhibitions/sicily/
"Sicily: Art and Invention between Greece and Rome
An exploration of ancient masterpieces from the island of Sicily—crossroads of the Greek and Roman worlds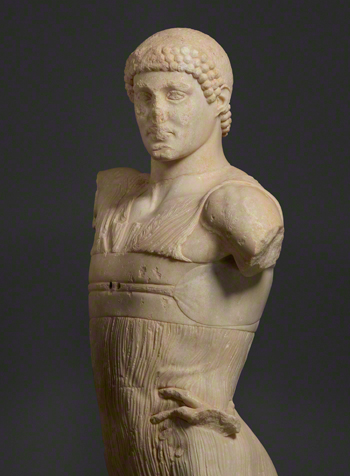 Statue of a Youth (the Mozia Charioteer, detail), 470–460 B.C., Sikeliote (Sicilian Greek). Marble, h: 181 cm. Courtesy of the Servizio Parco archeologico e ambientale presso le isole dello Stagnone e delle aree archeologiche di Marsala e dei Comuni limitrofi—Museo Archeologico Baglio Anselmi
On the island dear to the goddess Demeter and blessed with agricultural abundance, former Greek colonies grew into powerful kingdoms during the 5th to 3rd centuries B.C. Innovations in art, architecture, theater, poetry, philosophy, and science flourished on Sicily, leaving an enduring stamp on mainland Greece and later on Rome.

Sicily: Art and Invention between Greece and Rome presents 145 objects that bear witness to the athletic and military victories, religious rituals, opulent lifestyles, and intellectual attainments that shaped Classical culture at its peak.
Visit the Exhibition
Exhibition Checklist
Download a complete list of works in the exhibition (PDF, 157KB, 14 pp.) »

This exhibition has been co-organized by the J. Paul Getty Museum, the Cleveland Museum of Art, and the Assessorato dei Beni Culturali e dell'Identità Siciliana. It celebrates 2013 as the Year of Italian Culture in the United States, an initiative of the Italian Ministry of Foreign Affairs, realized under the leadership of the President of the Republic of Italy.