http://www.getty.edu/art/exhibitions/pompeii/?utm_source=egetty130&utm_medium=email&utm_campaign=egetty131
The date of the meetup got changed from Sat. Dec 29th to Sun. Dec 30th at 3pm. I'm very sorry for the inconvenience this causes you. I have 10 tickets for 3pm Sunday and will wait for the attendees to confirm first and give the ticket number to enter Getty Villa. I'll close the RSVP for now and will re-open later if there's any spot available.
THE DINNER AT VIA ALLORO ON SAT. DEC 29TH AT 6:30PM IS STILL ON AS SCHEDULED.
Apologies for my year-end blunder! After 5 long years of organizing, I still don't know how...((( I guess I'll be forever learning....
Sincerely,
Sally
Dear members,
One of my childhood dreams was to become an archaeologist since one day when I was 7-years-old I read about whatever happened in Pompeii. I still remember the children's book and a couch in which I was sitting and reading... I was so fascinated.
So, when I received email from our member Sara who is an archaeologist and works at Getty Villa as a researcher telling me about the Pompeii exhibition, I got sooo excited! And started planning with her to have a meetup there...... Well, that was way back in July and it took me this long to finally post....
http://www.getty.edu/art/exhibitions/pompeii/?utm_source=egetty130&utm_medium=email&utm_campaign=egetty131
And Dec 29th has a very special meaning for me. It will make my 5th anniversary of taking over this group after it was abandoned by the original organizer. So, to me it means a lot to be able to go to the exhibition with other members to dig up some history together lol
We had fun to visit Getty Villa last time in July for Aphrodite exhibition:
http://www.meetup.com/LACooking/events/67809162/?a=co1_grp&rv=co1
The following information was taken from Getty Villa site:
"The Last Days of Pompeii addresses the potent legacy of the ancient city of Pompeii in the modern imagination.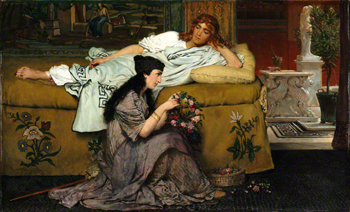 Glaucus and Nydia, 1867, Lawrence Alma-Tadema. Oil on wood panel, 15 3/8 x 25 5/16 in. (39 x 64.3 cm). The Cleveland Museum of Art, Gift of Mr. and Mrs. Noah L. Butkin,[masked]

Exhibition Checklist
Download a complete list of works in the exhibition (PDF, 202 KB, 7pp.) » The eruption of Mount Vesuvius in A.D. 79 destroyed yet paradoxically preserved the city of Pompeii and neighboring towns. Seemingly frozen in time, they are often considered the places where we can best access the daily lives of ancient Romans. While providing windows to the past, since their rediscovery in the early 1700s, the Vesuvian cities have also served as mirrors of the shifting present. For three centuries they have remained a constant obsession, inspiring foremost artists—from Piranesi, Fragonard, Ingres, and Alma-Tadema to Duchamp, Dalí, Rothko, and Warhol—to examine contemporary concerns, such as sexual identity, psychoanalysis, the nuclear threat, collective memory, and the nature of art.

The exhibition draws its name from Edward Bulwer-Lytton's 1834 novel The Last Days of Pompeii, a melodrama of Pompeian life set immediately before the eruption of Vesuvius. One of the most popular literary works of the 19th century, the novel transformed modern perceptions of Pompeii and inspired numerous works of art, several of which are on view in the exhibition."
I just can't wait to visit!!! And of course a dining meetup will follow in the evening for the celebration of my anniversary. Stay tuned!
Hope you can join to enjoy this special exhibition which will end on January 7th.
See you there,
Sally