Today we are heading to RIOJA TAPAS FANTASTICAS - a  FREE (to enter) OUTDOOR FESTIVAL celebrating Rioja wine, Spanish food, music, entertainment and lifestyle. Join us on the South Bank of the Thames to taste wines from Spain's most famous wine region and amazingly authentic tapas from some of London's best Spanish restaurants.
We will gather first at London Bridge Station at 12:00 noon then we will make the short walk to the Rioja Tapas Fantasticas Festival at Potters Fields Park, Tooley Street/The Queens Walk, Southwark, London, SE1 2AA.
This FREE to enter event will  take place at Potters Fields Park in the shadow of London's iconic Tower Bridge. A sensational range of red, white and rosé wines from some of Rioja's most famous vineyards will be available to taste, along with some of London's finest Spanish restaurants serving authentic Spanish cuisine.
Taste a wide variety of red, white and rosé wines from Spain's most prestigious wine region.
You can purchase a tasting glass for £3.50 and receive four tokens to exchange for Rioja wines (sample size). Tapas and full glasses of Rioja are also available for purchase.
There is a fantastic line up of some of London's best Spanish restaurants exhibiting at Rioja Tapas Fantasticas.
With such dishes as Andalucian Gazpacho, Chorizo Parrilla with Piquillos and Tortilla Espanola there'll be food to suit every palate, the hardest thing will be deciding what to have!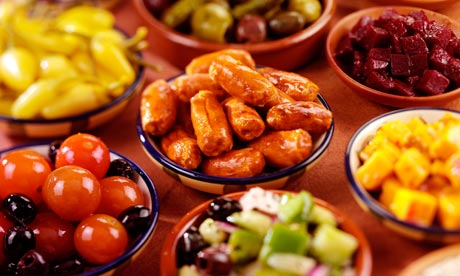 The festival recreates the traditional tapas crawl from the famous Calle Laurel in the heart of the Rioja region with "tapas-hopping" from one tapas stall to the next, sampling a delicious range of tapas dishes and authentic produce from some of the Capital's leading Spanish restaurants.
There is Entertainment too at RIOJA Tapas Fantasticas on stage.
Wine experts Olly Smith and Susy Atkins to take you on taste tours of the Rioja region,. Renowned Spanish chef José Pizarro will be cooking up a storm on stage.
There will also be 'Food Painting'; a live creation of 'a la carte' paintings devised from edible paints made up of Rioja wine and seasonal produce.
There will also be an array of bands and DJs . appearing on stage offering authentic Spanish music in true festival style!
Jardares por Fuera
Formed in 2009, 'Jardares por Fuera' fuses old style flamenco with hip hop, reggae, rumba and swing in a fresh mix of simplicity and extravagance. The band comprises a group of London based Spanish musicians.
Fernando's Kitchen
A unique fusion of flamenco, north-African and Latin sounds, mixed in with the modern day contemporary styles. Fernando's Kitchen is a London-based group of multi-cultural musicians, performing their very own compositions as a 6 piece line-up of Spanish guitar, double-bass, oud, flamenco cajon, percussions, vocals, and trumpet.
Mr Doris
Proudly flying the flag for the beats and world music scene in Ibiza and with an already impressive musical history under his belt, Mr Doris has played at some of the most renowned clubs on the map.
Timetable
Saturday Afternoon.

12:00 Food & Painting Demo
13:45 Cookery Demo
14:15 Jardares Por Fuera
15:00 Mr Doris
15:15 Fernando's Kitchen
and more!!
You can stay all day if you wish as the programme repeats itself.
Plan your journey, with TFL's Journey Planner
The nearest tube stations are Tower Hill and London Bridge.
This is a joint event with Ken's Events.
When you arrive at the meetup point look for the 'KEN'S EVENTS' Flag/Sign pictured below.
KEN'S EVENTS also has a Facebook page and Twitter account. See http://www.facebook.com/Kens.events
and http://www.twitter.com/KenEvents/