This is a winter adventure packed trip to the heart of Polish culture and tradition. We will be visiting two UNESCO heritage sites, a castle, and the most amazing city in Poland: Krakow.
The itinerary was created to challenge you and at the same time allow you some time for relaxing and socialising. After the tough day of skiing/taking skiing classes we will unwind in the thermal pools. We will also have a chance to let our hair down and enjoy famously cheap polish drinks at the hotel's disco.
Accommodation is a friendly and comfortable B&B with its own and separate party space and a dance floor. We will be staying in twin and tripple rooms with a couple of single rooms available at a premium of £30 (please let me know that you are interested in one when you book). Most rooms have en suite showers. To see the details:http://www.gaweda.pl/
We will be visiting the former capital of Poland - Krakow. It is one of the oldest cities and the most beautiful one. The Old Town, together with the Wawel Hill and the Kazimierz district, are on the UNESCO World Heritage List. The Medieval urban layout of the Old Town has not changed for centuries. We will enjoy a guided tour of the old town as well as an evening expedition to the old Jewish quarter where we will soak its magical atmosphere over a traditional glass of beer.
We will also see The "Wieliczka" Salt Mine, which is one of the most valuable monuments of material and spiritual culture in Poland. Each year it is visited by more than one million tourists from all over the world. It is also a world class monument, featuring among twelve objects on the UNESCO's World Cultural and Natural Heritage List.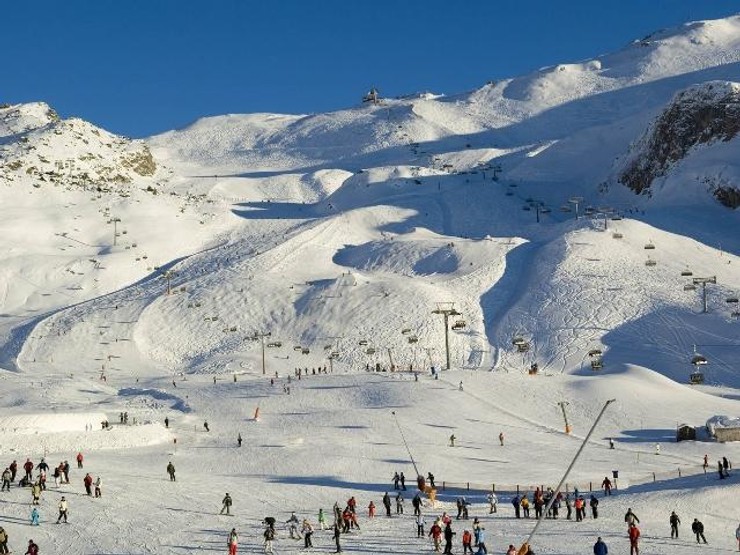 We will be skiing in Bialka Tatrzanska, a ski resort that boasts a thermal complex comprising net floor area of 8,580.33 m².
Terma Białka in Białka Tatrzańska is an extraordinary place – it combines fun of an aqua park, comfort of a SPA and the therapeutic effects of thermal baths. It offers entertainment and relaxation with an interior design which combines highland style with modern architecture. Their pro-ecological mind set demonstrates Terma's concern for the natural environment and well-being of future generations.
Geothermal water is extracted from a depth of 2500 m with a temperature of 72°C.
The flights are not included and at the moment cost about £70 return.
In terms of spending money you should be ok with £50. £100 will buy you plenty! Just remember you have to have polish Zloty - Euro is not accepted.
Please see the detailed trip plan of the trip at the end of the description to see what is included.
Price: early Bird Price of £240 applies if you pay in full by the end of November. If you pay in December you can still get the discounted price of £260. In January you will have to pay the full price of £290.
What's included: all transfers (but not the flights), 2 nights accommodation, most meals, skiing instructors for beginners, ski rental, ski passes, thermal baths tickets, guided tour of the City, tickets to the salt mine, tour guide at the salt mine. For more details see plan of the trip.
Deposit: of £100 (+paypal fees) needs to be paid on RSVP to secure your place.
The reminder of the money needs to be paid into my bank account two weeks before the trip the latest. For isntructions on how to make the payment and for the bank details please follow this link: http://www.meetup.com/Curious-Kat-Adventure-Club/pages/Bank_account/. Please note that if the payment is not received in time your name will be removed from the RSVP list to make space for others and your deposit will not be refunded.
More info about the sights
Krakow:
One of Poland's oldest cities, it was already extant at the nation's birth in 966. It was the capital from 1038 until 1596, when that honour was wrested away by the upstart Warsaw (although Krakow's Royal Castle remained the burial place of kings, military heroes, poets and even presidents). Nowadays, erudite, softly-spoken Cracovian intellectuals rather look down their elegant noses at the fast-paced, noisy, money-fixated Varsovians.
Every visitor should see Europe's largest medieval market square with its Cloth Hall, St Mary's Church with its Gothic pentaptych altarpiece carved from limewood, Wawel Hill and its royal castle and the Wawel cathedral with its outstanding Renaissance chapel.
The medieval buildings of the Collegium Maius university with its unique collection of astronomical instruments, the Barbican, and St Florian's Gate is another gem worth visiting.
The Jewish quarter of Kazimierz features a wealth of Jewish heritage sites, including a 16th century cemetery and seven synagogues of which one is now the Jewish museum. Each summer the Jewish Culture Festival is held there, attracting followers of the Jewish culture from the whole world.
Wieliczka:
The "Wieliczka" Salt Mine is one of the most valuable monuments of material and spiritual culture in Poland. Each year it is visited by more than one million tourists from all over the world.
It is also a world class monument, featuring among twelve objects on the UNESCO's World Cultural and Natural Heritage List.
Today, the "Wieliczka" Salt Mine combines many centuries of tradition and modernity, the history of several hundred years and an underground metropolis with extensive infrastructure.
The mine is a product of work of tens of generations of miners, a monument to the history of Poland and to the Polish nation – a brand, present in Polish consciousness for centuries.
Bialka Tatrzanska:
Bathing in thermal water mineralized like this, influences  organism in a very beneficial manner. It improves especially mental comfort, decreases stress, stabilizes nervous system thanks to which it restores peace of mind and improves overall psychophysical condition as well as protects against Parkinson's and Alzheimer's diseases among others. Also, it eliminates heart diseases, stabilizes pulse, cures the cardiovascular system diseases, reduces obesity and even eliminates sleeplessness.
IMPORTANT: By signing up for this trip you acknowledge that you will be getting your own travel insurance (at an appropriate level) as the organiser only facilitates the group, but doesn't take responsibility for your safety during the trip. Skiing can be a dangerous activity and you will have to make sure that you take any necessary precautions.
Trip plan
Day one (Friday 17 January):
8:20 – 11:45 EasyJet Flight from London Gatwick to Krakow. Not included, currently at £36.99
However, if you would rather fly from Stansted, you can take 6:25 - 9:50 flight, currently £36.99 and wait for us at the airport. OrRynair 8:40 that gets you there for 12:05. However please let me know if you decide to take this option - we will wait for you at the airport.
11:45 – 13:30 Immigration, luggage pick up and transport from the airport to the hotel (included)
13:30 –15:00 Unpacking, refreshing and late lunch (included)
15:00 – 15:30m Transfer to Wieliczka (included)
15:30 – 17:30 Visiting Wieliczka (included)
17:30 - 18:30 Transfer from Wieliczka to Krakow (included)
18:30 – 19:00 A walk around Krakow – lead, but not guided (included)
19:00 – 20:00 Krakow, Kazimierz – hanging out in one of the bars (drinks not included)
20:00– 21:00 Transfer from Krakow to the hotel (included)
21:00 - 22:00 late Dinner (included)
22:00 - late drinks and party
Day 2 (Saturday, 18 January)
8:00 – 9:00 Breakfast (included)
9:00 – 11:00 Transfer to Bialka Tatrzanska (included)
11:00 – 11:30 Ski rental  (included)
11:30 – 15:00 skiing (included)
3 hours of ski lessons included for the beginners
A ski pass included for the advanced skiers
Lunch/dinner not included
15:00 - 18:00  Thermal Baths (entry ticket included) - please remember to bring your own towels or you will have to pay for the hire.
18:00 - 20:00  transfer from Bialka Tatrzanska to the hotel (included)
20:00 - 21:00 dinner
21:00 late those who still have energy can join a party at the hotel restaurant. Dance floor and a DJ provided.
Day 3 (Sunday, 19 January)
9:30 – 10:30 Breakfast (included)
10:30 – 11:30 Packing and check out
11:30 - 12:30 Transfer from hotel to Krakow (included)
12:30 - 14:30 Krakow – Wawel and guided city tour , (included)
14:30 – 16:30 free time in Krakow
16:30 – 18:30 Dinner (not included)
18:30 – 19:00 transfer to the airport (included)
20:55 – 22:25 Ryanair flight from Krakow to London Stansted, not included, currently £37.74.
Please note that unless the trip is cancelled the payments are non-refundable as the costs need to be paid in advance. However you may be able to sell your place to your friends or other group members if you follow this procedure;http://www.meetup.com/Curious-Kat-Adventure-Club/pages/What_to_do_if_you_can_no_longer_attend_an_event/.
If you would like to see last year's photos and ratings please follow this link: http://www.meetup.com/Curious-Kat-Adventure-Club/events/81689142/
this trip is organised by Curious Kat's Adventure club. So if you would like to see who else is going, you can follow this link: http://www.meetup.com/Curious-Kat-Adventure-Club/events/101462452/