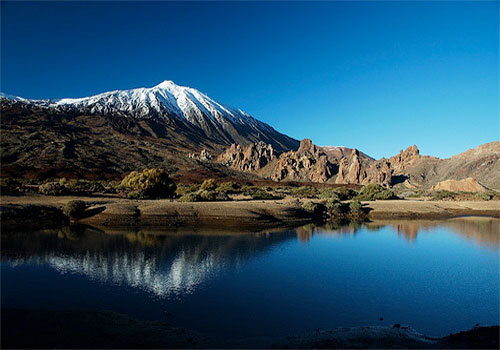 I don't know about you, but there is a limit to how much cold and miserable UK weather I can take. And while it is great to make the most of the winter sports and while skiing and snowboarding are fun, at some point we just need to get away from the snow and look for the summer. 
With the highs of 20 centigrades in March Tenerife will be an excellent place to get first sun rays. While UK's temperature will be still nearing zero, we will hopefully be able to sport sun kissed skin our return... 

What will we do?  
Hiking, snorkeling and whale watching are the main highlights of the trip. We will also visit the National Park of the Volcano Mount Teide and another small island known for its natural beauty: Gomera. We will also have some time to visit the local market, however if you are not up for it you can spend this time at the beach instead. 
3-4 people appartments only 5 minutes walk from Playa de las Vistas (one of the greatest sandy beach in Tenerife). If you would like a single room it may be possible at the premium (please let me know you are interested and depending on the amount of people we have I will try to accommodate it).
Price: Is not final yet, but the early bird should be around GBP230. It will include 3 nigths accommodation, trip to another island (Gomera), catamaran ride, hiking, whale watching, snorkeling, visit to a natural park to a volcano Mount Teide. Please RSVP now and once everything is ready I will update this section and ask for the deposit. Only once the deposit is paid your place will be secured and you will be able to book your flights. Prior to the deposits being charged the plan of the trip may still change. 
In March, when the spring season is just around the corner, the average temperature is 17°C, with highs of 20°C and lows of 13°C being common. The daily sunshine hours and average days of rainfall are the same as February, nine and 11, respectively. The sea temperature stands at 19°C, which when combined with the increased temperature makes it a great time for enjoying a swim in the sea.
Recommended Flights: 
London Gatwick to Tenerife South
Dep Thu, 06 March[masked]:00Arr Thu, 06 March[masked]:25 Flight 87031 Adult1 x £60.49
Tenerife South to London Gatwick
Dep Sun, 09 March[masked]:15Arr Sun, 09 March[masked]:40 Flight 87061 Adult1 x £53.49
Subtotal flights and options for all passengers: £113.98
Plan of the trip
Thursday 6 March 2013
7:00 -11:00 Flight from London Gatwick to Tenerife. (not included) currently  £60.49 (Easy Jet)
11:00 - 12:00 going through security and picking up luggage
12:00 I will be meeting you at the exit from the secure zone
12:00 - 12:30 transfer to the hostel
Puerto Colon, Pier 4, Costa Adeje (Playa de las Americas)
13:15 - 16:15 Whale watching and snorkeling
8am - 16:00 Trip to Gomera
Lunch included.
Parque Nacional de Garajonay, a National Park and UNESCO World Heritage Site. The park provides the best example of Laurisilva, a type of cloud forest that covered almost all of Europe millions of years ago.
In Laurisilva, the trees are watered by the mist which sometimes covers the top of the island, especially in winter. They are swathed in mosses and lichens creating an amazing atmosphere.
Another attractive feature of the Park is the dramatic rock formations found there. These are former volcanoes sculpted by erosion into amazing shapes.
You will make a stop at Mirador de Agando to view the imposing cliffs. If weather conditions are favorable, you will also stop at Mirador de Vallehermoso to photograph this beautiful green valley.
Between 1300h (1:00pm) and 1400h (2:00pm), you will enjoy 
lunch 
in the 'Las Rosas' or 'Agulo' districts of La Gomera. The meal will include: Canary vegetable soup with 'gofio', meat and rice, bread, 'mojo' sauce, ice cream, fruit, wine and water.
Saturday 8 March 2013
8am - 14:00 Trip to Mount Teide
14:00 - 15:00 transfer to the Pyramids (optional and not included)
15:00 - 17:00 Pyramids (optional and not included)
Market in Los Cristianos
16:30 - 17:00 airport transfer
17:00 - 19:15 Time to check in and go through security
19:15 - 23:40 Flight from Tenerife South to London Gatwick (not included)