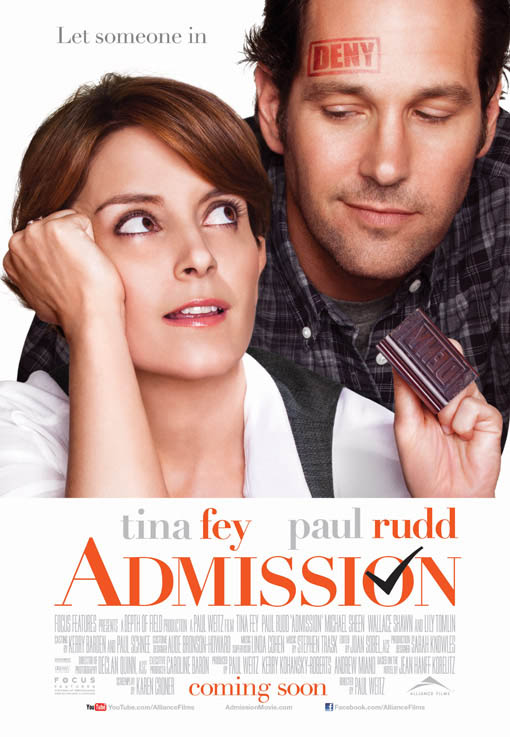 Synopsis: Straight-laced Princeton University admissions officer Portia Nathan (Tina Fey) is caught off-guard when she makes a recruiting visit to an alternative high school overseen by her former college classmate, the free-wheeling John Pressman (Paul Rudd). Pressman has surmised that Jeremiah (Nat Wolff), his gifted yet very unconventional student, might well be the son that Portia secretly gave up for adoption many years ago. Soon, Portia finds herself bending the rules for Jeremiah, putting at risk the life she thought she always wanted—but in the process finding her way to a surprising and exhilarating life and romance she never dreamed of having.
Watch the Trailer: http://www.tribute.ca/trailers/admission/19005/
-------------------------------------------------------------------
Meetup Time: 6:30pm ( I will wait till 6:35pm only). If you arrive after that time, come and find us. Meet us after the movie so that I know that you came to the meetup.
Meetup Location: I will be waiting on the 4th floor where movie tickets are shown to the usher before entering the theatre. Purchase your ticket at the ticket machines or at the ticket office that is on the street level or ground level. Then take the elevator or escalator to the 4th floor where I will be waiting. Please give yourself time to purchase tickets and taking the elevators or escalators well before 6:30pm. I will be carrying the 'Mad about Movie Meetup' sign.
Movie starts at: 6:55pm.
Cost of the movie: $13 approx.
Length of the movie: 1hour 47 minutes.
After the movie: I will wait outside the theatre for 10 minutes or so. One of the members has suggested a social gathering. Please see posting on the wall, I suggest those interested to join her. I am not sure if I can commit to it, hence I did not suggest an after movie get together. I may even join Sarah!
------------------------------------------------------------------------
Per Mad about Movies policy, please be respectful of other members by avoiding cell phone usage during a movie (when the preview starts). If you need to check your phone, please exit the auditorium.
When you RSVP 'Yes' you are agreeing to the Mad About Movies policy and the Liability Waiver posted in this link:
http://www.meetup.com/Mad-About-Movies-and-MORE/pages/Mad_About_Movies_and_More_POLICY_PAGE/
-----------------------------------------------------------------------
Karlee L is organizing this meetup. If you have to contact her, please post a message on the wall.