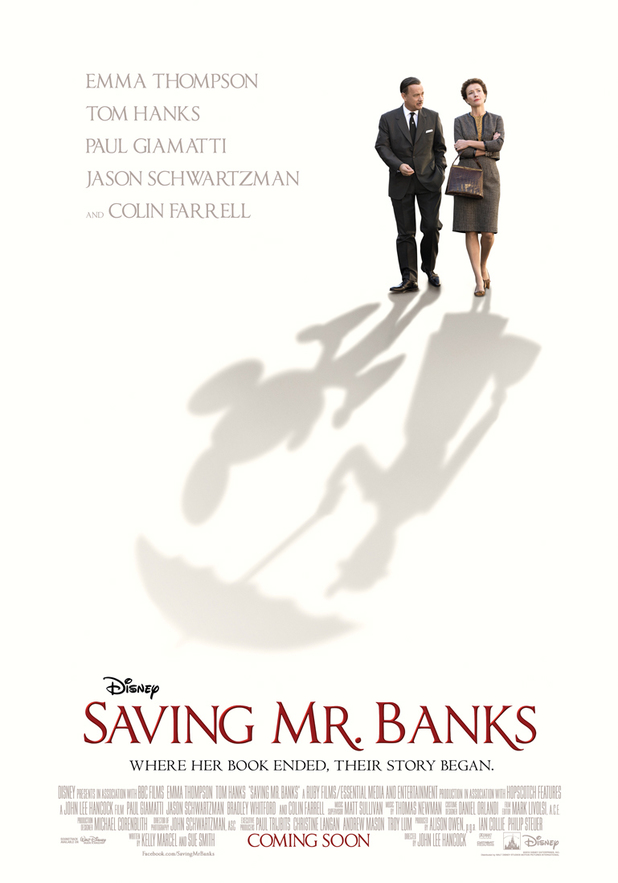 Synopsis:The film centers on the life of Travers, shifting between 1907 with her childhood in Queensland, Australia, the negotiations with Walt Disney and the making of Mary Poppins in 1961. While in California for filming, Travers thinks back to her difficult childhood in Australia, most especially to her father, the inspiration for the role of the story's patriarch, Mr. Banks.
Saving Mr. Banks is a 2013 American-British-Australian biographical comedy-drama film directed by John Lee Hancock from a screenplay written by Kelly Marcel and Sue Smith. Centered on the production of the 1964 Walt Disney Studios film, Mary Poppins, the film stars Emma Thompson and Tom Hanks with supporting roles from Paul Giamatti, Jason Schwartzman, Bradley Whitford, and Colin Farrell.
Taking its title from the patriarchal character of the same name, the film depicts author P. L. Travers (Thompson) and her two-week briefing in Los Angeles as she is persuaded by filmmaker Walt Disney (Hanks), in his attempts to obtain the screen rights to her novel.
Watch the trailer: http://www.tribute.ca/trailers/saving-mr-banks/19278/
-----------------------------------------------------------------
Karlee is the organizer for the event. If you need to contact her, please post a message on the wall.
Comments: I am in the mood for a Walt Disney movie. Come join me.
------------------------------------------------------------------
Per MAMM policy, cellphone use by members during a movie is prohibited.  We request that you put away your phones once the previews start. If you need to check your phone for any reason, please exit the auditorium.
For (new) members: Please take the time to rate the event (not the movie) afterwards. Written feedback on the wall is also welcome if you want to talk about the movie or other things. Thanks!
----------------------------------------------------------
Meetup Location: Varsity theatre (downtown). I will be inside the theatre at the entrance of the auditorium where it is showing at. At this time, cineplex.com states that it is showing at Auditorium #3 on that day.  Please note that you will be required to purchase your ticket, show it to the usher before meeting me. I am doing this in case there is a line up. I will have a "Mad About Movie" meetup sign.
Meetup time: 6pm (I will wait for 5 mins only).
The movie starts at: 6:30pm
Show Running Time: 2 hours 6 mins 
Cost of movie: $8 approx (there is a 10% discount for scene card holders).
After the Movie: we'll see if the group wants to head out for drinks/meals. I will be waiting by the ticket sales area with a meetup sign, "Mad About Movies".
***When you RSVP yes to a meetup the Organizer will be waiting for you, please change your RSVP as soon as possible if you can no longer make the event***