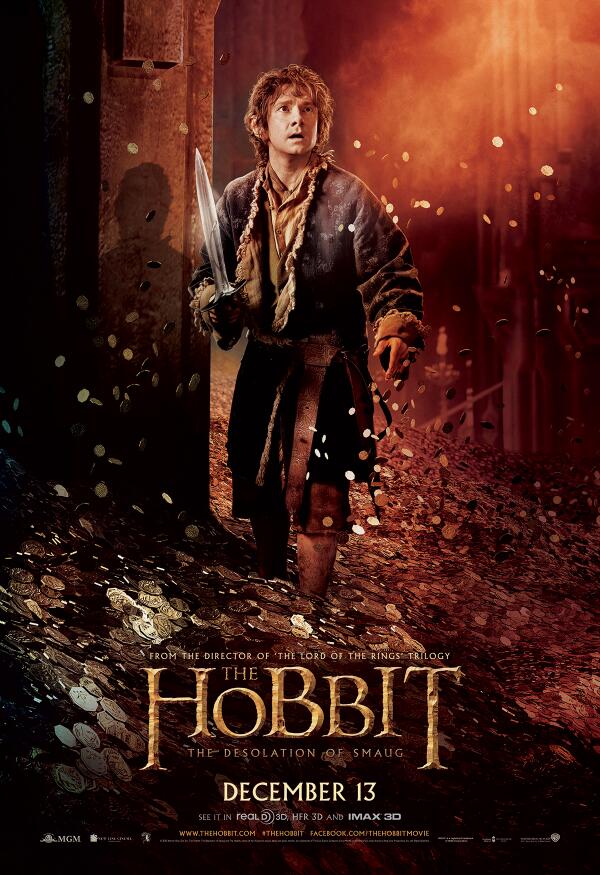 Synopsis: The second in a trilogy of films adapting the enduringly popular masterpiece The Hobbit, by J.R.R. Tolkien, The Hobbit: The Desolation of Smaug continues the adventure of the title character Bilbo Baggins (Martin Freeman) as he journeys with the Wizard Gandalf (Ian McKellan) and thirteen Dwarves, led by Thorin Oakenshield (Richard Armitage) on an epic quest to reclaim the lost Dwarf Kingdom of Erebor
Watch the Trialer:http://www.tribute.ca/trailers/the-hobbit-the-desolation-of-smaug---an-imax-3d-experience/14435/
---------------------------------------------------------------
Karlee is the organizer of the event. Post your comments on the wall and she will reply when she can.
I have watched many Peter Jackson's productions on stories based on the books of J.R.R. Tolkien. The journey continues.....
-----------------------------------------------------------------
Per MAMM policy, cellphone use by members during a movie is prohibited.  We request that you put away your phones once the previews start. If you need to check your phone for any reason, please exit the auditorium.
For (new) members: Please take the time to rate the event (not the movie) afterwards. Written feedback on the wall is also welcome if you want to talk about the movie or other things. Thanks!
----------------------------------------------------------
Meetup Location: Scotiabank theatre (John St. and Richmond Street). I will be waiting by the staircase that leads to the washroom on the second level (after the escalators) with a Mad About Movie Meetup Sign. Please meet me with a purchased ticket.
Meetup time: 3:30 - 3:45pm.
The movie starts at: 4:10pm in 3D CC/DS (Auditorium #4)
Show Running Time: 2 hours 50 mins 
Cost of movie: $16
After the Movie: We meet at the same location where we gathered initially. We'll see what the group wants. We can go to Jack Astors or Cafe Crepe. Open to other places.
***When you RSVP yes to a meetup the Organizer will be waiting for you, please change your RSVP as soon as possible if you can no longer make the event***