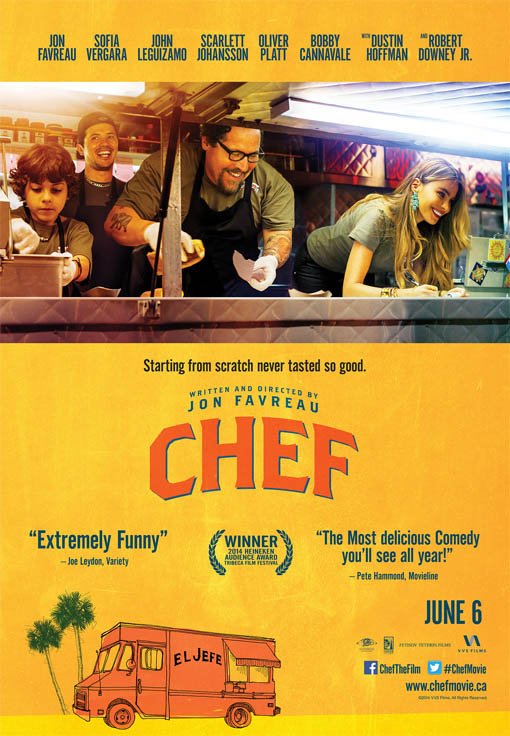 Karlee is the organizer for the event. If you have any questions or comments, please post them on the wall.
-----------------------------
Synopsis:
Carl Casper (Jon Favreau), a skilled chef in a high-end Los Angeles restaurant, is bored by his job recreating the classics suggested by his controlling boss, restaurant owner Riva (Dustin Hoffman).
In a stinging review by a leading restaurant critic Ramsey Michel (Oliver Platt), Carl is called out for his lack of imagination. Introduced to Twitter by his tech-savvy son Percy (Emjay Anthony), Carl accidentally starts a flame war and loses his job.
Encouraged by his ex-wife Inez (Sofia Vergara) to start a Cuban food truck together with his son and his friend Martin (John Leguizamo), Carl takes to the road, hoping to reignite his creative genius.
Watch the trailer: http://www.tribute.ca/trailers/chef/19730/
-----------------------
Movie Meetup Details:
Meetup Location: Auditorium 1 (Varsity 1) where the movie is showing at the Varsity theatre. There may be a line up as this is the opening weekend, hence I will wait in front of the auditorium/varsity #1. You will buy the ticket online or in person, show the ticket to the usher and go to the auditorium #1 (or Varsity #1) where the movie is showing. I will have a meetup sign.
Meetup time: 4pm (I will wait for 5 mins only).
Movie starts at: 4:35pm
Length of Movie: 1 hour and 55 minutes
Cost of the movie: $13 approx
After the movie:  Let's meet outside the theatre by the ticket sales area. We'll chat for 10 minutes or so. Then, let's head over to Hue's Kitchen for dinner. Here is some info about the resturant, http://www.urbanspoon.com/r/10/1462691/restaurant/Yorkville/Hues-Kitchen-Toronto
-----------------------------------------
When you RSVP as "attending"the event, your organizer will be expecting you. If you can no longer make it, please update your RSVP as soon as possible to "Not attending". Otherwise, you will be marked as a "No Show".