Wed.  ...  Field Trip to Hartford Prints studio next door in the Real Art Ways (RAW) building just south door . It is only 1 block walk but still is a Field Trip ! We can walk there, probably about 7 PM . 56 Arbor St. if you are late. 2nd floor, I think. If locked out , try back door near RAW. Our fine printing neighbors are one of a few successful Hartford start-up biz. They are also the creators of the " Buy Local Love Hartford " and similar "Be Local " campaign for CT and local biz.  Local !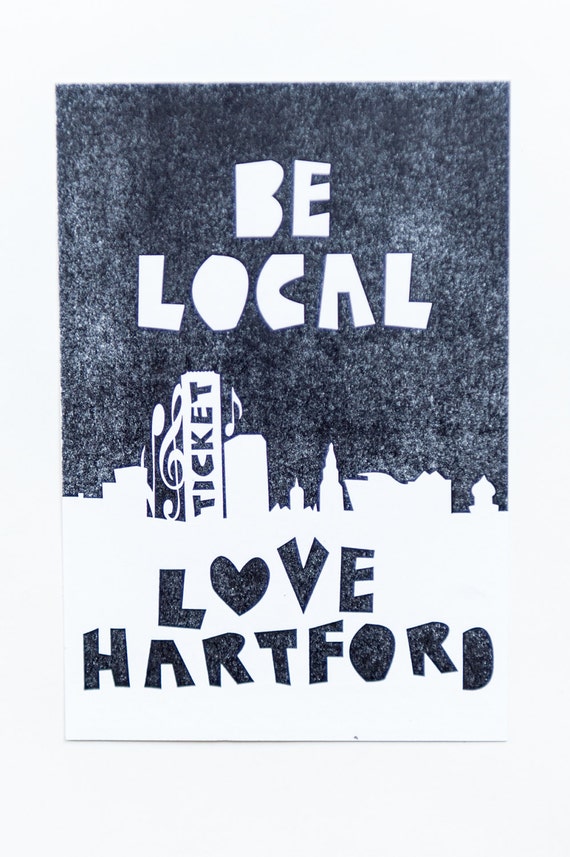 Awesome printing , and modern local attitude. See their media  ,  FB  , and their retail store downtown on 42 Pratt St. downtown Hartford . Make Local ? Love Hartford .
Our friends at Hartford Prints! have invited the members (and guests) of MakeHartford to come see their letterpress in action. If you have been to their store or a recipient of a card, ticket, business card, invitation, or other item they have printed, you know it is something special. They use an old-fashioned method (invented in the 15th century, although their equipment is somewhat newer) of printing to create stunning modern designs.
We'll meet at MakeHartford and walk over to the Studio on the other side of the building. Enjoy a beverage, watch the ladies of Hartford Prints! create some items, and ask questions about the process.
http://en.wikipedia.org/wiki/Letterpress_printing
[ Above specific to 7/8 Public night meetup . ....
Below - The usual/ordinary information for our public Wed. Nights follows : ]

Ever want to come to the space and see what we're up to? Want a tour of the space? Want to meet the members of the space? Great! Our Public night is the perfect time to stop in to get membership information, drop off an equipment donation, chat about art and technology issues, or just hang out while people work on their own projects.

You do not need to be a member Public Night at MakeHartford to attend this event or use our equipment (You will still have to have taken the safety courses). Some light refreshments may be provided and/or you can bring something. Cooking is making too!

Public hours start at 6pm with socializing and introductions.
We will stay open until 8pm, or as late as people want to keep working - which has meant midnight on some occasions.

Where... OUR SPACE!!!
30 Arbor Street
Hartford, Ct
We're in the basement. Make a U turn off the elevator and go left.
Follow the sound. We'll have signs up.
We're still in the process of opening so pardon our appearance.
See you there!
Please forward this invite to anyone you know who may be interested in joining this group.