Backpack: Three pond Area ( Beginner ) Level 1
2 Days 1 Night out in the woods.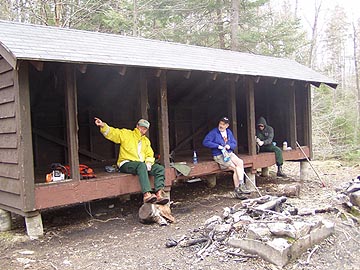 The Plan:
Meet at Hannaford at 2pm.
Drive over to the trail head on Route 118 Leave a couple of cars.
Drive to the Three Ponds Trail Head.
Arrive at the trail head and hike into the Three Ponds shelter Via Cape Mtn trail for (.04miles) turn right on Three Ponds Trail (2.0miles). Drop off packs at the shelter were we will be staying for the night and head out and explore the ponds and watch for wildlife. Moose hopefully..:-)
Special Note: Cause we will be staying in a shelter. tents are not needed. 45 degree sleeping bag at minimum.
Map:
AMC #4  Moosilauke - kinsman   K:3
Stat's:
Hiking Distance:  2.4miles
Hiking time:  2 hours
Elevation gain: 500ft
Hike Out: Instead of walking the same path on the return we will continue on the Three ponds trail for (3.5miles) to a dropped car on route 118. This way will take us past all three ponds and through a valley on the descent.  Elevation gain 500ft Descend 1,100ft
Gear:
Standard Summer Backpacking gear.  Gear list is posted on the files section of the groups site.
Waiver:  Read !!!
Be Warned!
Mountaineering, Skiing – Alpine or Back Country, Rock & Ice Climbing by its very nature is an extremely hazardous activity.
Falling off any part of a climbing route or bouldering challenge or other associated activity's, hiking or backpacking to a destination could result in injury or death. Weather, it be Trail conditions, or be it a slip on a trail or falling objects like rocks, climbing gear or tree's from above, including avalanche, can all incur injuries' and/or death. You are always attending at your own risk!
Any information on this Meetup group page is for the basic understanding of what could be encountered. We do not guaranty any type of accuracy on this information. You should always, seek your own additional resources of information for any Meetup.  You as an active member! Perhaps? lacking any of the following, experienced knowledge, professional training, good judgment, moral caricature or a conscious. We or anyone on any Meetup-Mountaineers cannot be held responsible in anyway.
When arriving at any Meetup you should always use your own best judgment. Weather or not the conditions " both physical or mental" are in your best interests. The judgment, Is this a place you should or shouldn't be?
If you get hurt! Don't even think about blaming someone else. You made all the decisions and where warned.  Stepping out of bed and driving to the meeting location. Too walk up to the activity and participate is on you. We are not guides or leaders in any event held. Just the organizers of finding a meeting location that people with similar interests can meet and socialize and participate in doing activities in which we have chosen an interest in performing..
It's always your right to back out at any time and live the good life at home in front of the television for the day….
That said have fun! Play safely! And take the responsibility of your own actions.
The Organizers