PLEASE DON'T LET THE "SEASON OF GIVING" END ON JANUARY 1ST!
With bitter temps and a severe winter predicted, please
consider helping those with no shelter from the cold.
>>>>>>>>>>>>>>><<<<<<<<<<<<<<<
They don't always look this cute...
...or this handsome.
It's usually more like this...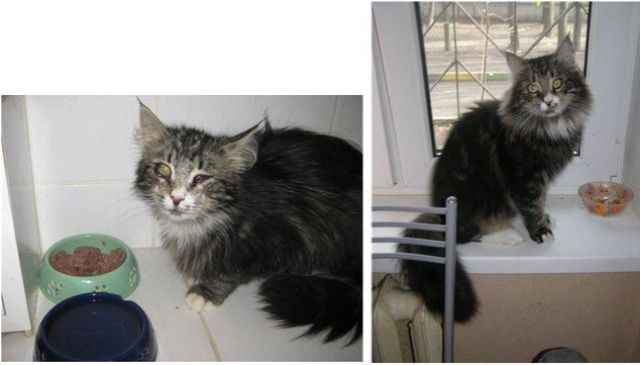 ...or this.
PLEASE CONSIDER HELPING A FRIEND OF MINE WHO FOUNDED AND NEARLY SINGLE-HANDEDLY OPERATES CASTAWAY CATS OF DELAWARE. THERE ARE MANY LOCAL ABANDONED AND ABUSED KITTIES THAT MAY NOT MAKE IT THROUGH THE WINTER WITHOUT YOUR (and her) HELP.
Castaway Cats is a 501(c)(3) non-profit cat rescue based in Bear, DE, and comprised entirely of volunteers.
Castaway Cats has spayed/neutered over 2000 cats and kittens and placed over 900 into loving homes. They currently care for 200+ cats, including 75 they took in in 2013.
How You Can Help:
• Adopt
• Foster
• Donate: money, food, litter, supplies, and other needed items (Please click link for specifics and/or to use PayPal: http://www.castawaycatsde.com/Help-Us-.html)
•All donations are tax deductible. Tax ID #[masked]
Please help Castaway Cats help the helpless and create more happy endings!
"When you adopt from a rescue you save TWO lives:the one you took home, and the one you made room for."
Thank you,  jan
Before & After...