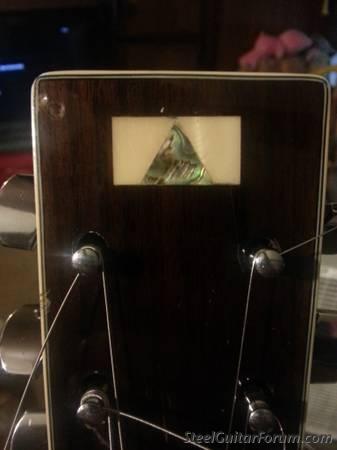 I saw this on Craigslist and thought someone here might know. He posted the headstock logo and wants to know what guitar it is.
resoRon
Edited by Ron V. on Jul 9, 2013 6:28 PM
Post #: 107
Hey Ron,
For some reason I'm thinking that was a high end Alvarez for some reason. I remember seeing that headstock back in the 70's I think. But like most of us the 70's are a blur to me. (OK, OK, OK the 80's and the 90's too) ;-)
Like John I went searching for the headstock and ended up spending well over an hour on this site. OMG!! Figures it's in Vegas.
http://www.edroman.co...
­
I posted on my steel guitar forum and several members feel it's just some inlay, not a logo and the guitar is piece meal or homemade.

i'm pretty sure i've seen this before - i'll check around - stay tuned -
i'm guessing that there was no label or anything written in the soundhole or back of the headstock - ?

Edited by charlie pearlman on Jul 12, 2013 11:19 AM
expert #1 says:
"Looks like a '70s Japanese with a Guild 50 - series fingerboard inlay. Hard to say..."