Terrace Pond South
Wawayanda State Park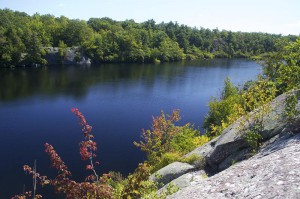 Summary: Very popular hiking destination in West Milford, NJ. This moderately challenging loop combines pleasant forest walking with rocky scrambles and passes by pretty Terrace Pond.
4.8 miles – Most books seem to rate this loop as "challenging" … but we'd clarify that a little:
Beginner/Intermediate hiker: we would rate this as a challenge because of all the rock ledges that need to be negotiated, and the moderate length. A lot of the hiking in the beginning is just a bit rocky and there are some easy woods road sections. From the pond on, it's downhill but a lot of rocky scrambling.
Experienced hiker: the length on this is way too short to create a challenge. The trail is lovely, the Pond is a great destination, and the scrambling will keep you interested – so it's absolutely worth doing. You could always piece together a longer route using other trails.
Pace: Moderate
Estimated Time: About 3 Hours
Estimated Miles: 5
Fee: $2.00/person (Cash Only)
Be Prepared with:
- Hiking boots or sneakers. Regular sneakers are ok as long as they are sturdy & protect your feet.
- WATER!! bring at least 2 bottles.
- Sun block, sun glasses, hat & bug spray (Good to get one that repels Ticks!)
- Snacks for energy: Trail Mix, energy bar, or fruit etc.
- light weight pants or shorts (it's too hot for jeans & they'll weigh you down)
- plastic bag for trash. Carry in, carry out policy. There are No Trash cans.
- toilet paper (just in-case)
- Don't forget your camera!
(best to carry everything in a small day/back pack if you have one)
*Hike will be canceled in the event of thunder & lightening or heavy rain
Directions:
From 287 North take exit 52 B to Butler, take rt. 23 North into West Milford. From the 287 intersection, go approx. 9.6 miles and make a right onto Clinton Rd. Follow Clinton Rd for about 7.8 miles. You will pass Clinton Reservoir and beautiful, thick woods. The trail head parking is on the left side of Clinton Rd and is an unpaved lot. We will be meeting in lot P7.  If you pass the gas pipeline and start seeing lots of civilization, you went just a little too far!
https://maps.google.com/maps?daddr=41.146551,-74.403641&hl=en&ll=41.146636,-74.402171&spn=0.007005,0.016512&sll=41.14468,-74.40541&sspn=0.007005,0.016512&geocode=FbfYcwIdx7CQ-w&t=h&mra=mr&z=17
Look forward to seeing you there!
Jessica
DISCLAIMER: Your attendance on a hike is strictly voluntary and you assume full responsibility of your own safety and bringing appropriate gear. I am not a professional guide and I don't have wilderness medical training. By rsvping "Yes" and attending the hike you agree not to hold me or any other member of this group liable for any accidents or injuries .