This is a paid event $10.00. Please click here to register on Eventbrite.
Event Details

OVERVIEW
Despite infinite new technological possibility, most companies still neglect real user needs when deciding which products to develop and bring to market.
IIT Institute of Design adjunct faculty and Managing Director at Conifer, Megan Fath, will lead a discussion on how design is uniquely poised to deal with complex arenas such as medicine. She will be joined by David Beiser, a University of Chicago medical entrepreneur and co-founder of the TechStars company, Qualia Health, an innovative software platform that enables patients and providers to track and manage health, alongside a Q&A/ Panel Discussion moderated by Hugh Musick, Associate Dean at IIT. The discussion will extend beyond exciting new products that currently exist in the marketplace to speculation on the future of designing change in human behavior. 

AGENDA
Entry & Networking (6:30 – 7:00)Overview of current medical landscape as it relates to disruptive technology and UX design - Megan Fath (7:00-7:20)Case Study presentation on Qualia Health Design Journey- David Beiser (7:20-7:40)Panel Discussion and Q&A with Megan, David and Hugh Musick as moderator (7:40 - 8:20)Networking (8:20 - 8:30)

PRESENTERS

Megan Fath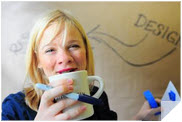 Megan Fath is an empathetic designer who practices research to understand users' needs and identify design opportunities. A passionate, avid matchmaker for research and design, she is Managing Director at Conifer's New York office as well as adjunct faculty at SVA and IIT Institute of Design. At Conifer, she has shaped the design vision and strategy, growing the firm's design practice. Megan's thoughts on intersections of research and design are the focus of her graduate courses as well as published topics in several industry publications. Megan holds a master's degree from IIT Institute of Design and a BFA in Visual Communication Design from Kent State University. Her clients include the New York Times, McGraw-Hill, Samsung, Wrigley, Learning Ally, and CarMax.

David Beiser
Dr. Beiser is an emergency physician, scientist, and entrepreneur interested in complex problems that exist at the ill-defined interfaces between traditional disciplines. With an undergraduate degree in mechanical and aerospace engineering, Dr. Beiser began his career developing medical devices for surgery. He also holds graduate degrees in biomedical engineering and medicine from Northwestern University where his work focused on adaptive machine learning applications in neuroscience. For the past 10 years, he has served as faculty at the University of Chicago, where he has directed an NIH-funded program in cardiovascular science. He recently co-founded Qualia Health, a company focused on developing tools for measuring a patient's "health graph" to improve outcomes.

Hugh Musick (Moderator)
Hugh Musick is a Associate Dean and Director of Executive Education at Illinois Institute of Technology Institute of Design where he oversees the school's operations, strategic planning, new business initiatives and develops executive programs around design and innovation. Common to all the programming he has developed is a commitment to helping organizations understand how design is a discipline that can be practiced for strategic advantage. To this end, he has worked with a wide range of institutions including universities, hospitals, not-for-profits, and corporations. His particular interests are innovation leadership in organizational settings and communication effectiveness. He holds a MBA from the J.L. Kellogg Graduate School of Management at Northwestern University.
NYC-CHI is the largest and oldest group in the NYC region specializing in UX. We were first founded in 2001 and have 2000 active members in all aspects of HCI, including information architects, interaction designers, user experience designers, service designers, product and museum experience designers, usability practitioners, digital librarians, user interface designers and UI developers. We hold sporadic events in NYC Join the active email group or our (less active) meetup group for UX related job and event announcements 
IIT Institute of Design is a graduate school of the Illinois Institute of Technology located in Chicago. Since its founding as the New Bauhaus in 1937, the Institute of Design has grown into the largest full-time graduate-only design program in the US, with students from around the world. https://www.id.iit.edu/
NYU's School of Continuing & Professional Studies offers many adult programs for continuing education in design and technology, including Certificates in User Experience Design, Graphic Design, Analytics and Data Visualization, and an MS in Advanced Digital Applications. More info: http://www.scps.nyu.edu/