OK - just WTF is this 'Grindhouse Barnhouse' bidness?
I've spent some time mulling over with Natalia just who to invite to our proposed special event, & we've decided on all you freaky people. I don't know if that makes you lucky, since we think yer'all special in a dirty 'Grindhouse kinda way', but regardless, here's your invite. Butt an invite to What?


SO, NYC GRINDHOUSE, aka Cherry Bomb & I, have put together a special Grindhouse Weekend for this coming August. We're gonna take all you sweaty freaks upstate to Warwick, NY, to visit the Warwick Drive-In Theatre.  No numbnuts, we don't know what will be playing yet, and it probably won't be Grindhouse either, but it don't really matter, as this is a real old-school classic Outdoor Drive-In Theater.  They don't make 'em like this anymore ladies and germs. If you haven't yet experienced a film under the stars at a REAL Drive-In, then you're missing some Classic Americana, which unfortunately won't be around for too much longer.  I was lucky enough as a young lad to have a psychopath for one of my several fathers (yeah, I'm a child of a hippy 60's/70's mom) who had a VW Bus which he made a bed for on top.




I'd climb up the side with my franks and pop to enjoy a scary double-feature wherever my folks took me to, as we traveled a lot since they were both in the theater. ANYhow, he'd no doubt several times through the night turn into a monster and scare the living shit out of me, as he was a set tech and make-up specialist, as well as the baddest Jud you ever saw in Oklahoma - the part was MADE for him.  I always had the best costume in the neighborhood for Halloween when I was a kid, as he handcrafted them himself, planning for weeks sometimes what we were gonna turn me into from year to year.  This is where my unhealthy love of Horror and Grindhouse truly sprung from.


ok, Ok, OK! - enough walking through mammary lane. So what else we gonna do for this proposed 'Grindhouse Weekend', when is it, and how MUCH $$?
Take it easy, I'm coming to it. For this adventure, we figured we'd see if we could find a house for us all to rent for the weekend. Well, guess what? We Scored a BIG ONE on this, as we found an awesome furnished barnhouse.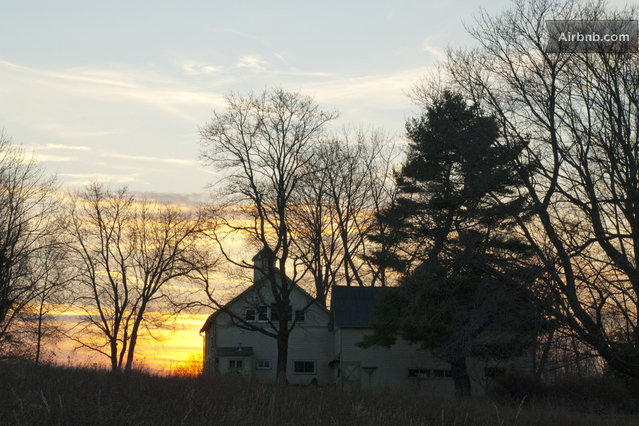 Hannah, the woman who runs it, turns out to be a big Grindhouse aficionado too!
She has a film projector and regularly screens films outside on the wall of her gigantic barnhouse. SO, we'll have lots of boobs n'blood splashing on the wall Fri & Sat night, the grittier the better, and maybe even get a local band to come jam for us.

But, to answer your question, no, it ain't a barn full'a hay. It's furnished, has water (yes, it's running you idiot!), & you don't have to pee behind a tree. You can even shower if the urge hits you. There are beds (which cost a bit more), but, depending on how many wanna go with us, some might be on a couch, and some might be on an inflatable mattress. Some might also be in sleeping bags on the floor or in a tent outside
. There's PLENTY of space. However, if you want 5-star luxury, then join a different Meat-UP.

As far as the price, Hannah is asking just $40 a person to sleep in the Barnhouse or anywhere else on her property outside. The price for the weekend won't break anyone's budget, as I'm a cheap bassturd
, and if I can do it, you can do it. Of course, this $40 is just for the use of her place. If you wanna eat anything other than leaves, you best bring a bit more green. She has a big grill, and we'll be making a COSTCO run to buy some dead animals to eat, as well as stopping along the way up to pick-up any we see lying on the road. More info on the food will be emailed to you soon, as we're figuring out how much $ it will be per person for those who want to grill out with us.

WHERE THE HELL is this place boss? Here's the info:

80 West Ridge Road
Warwick, NY 10990
www.hudsonvalleybarnhouse.com
www.airbnb.com/rooms/15538

It's less than an hour and a half drive from midtown Madhattan. What? You don't have a CAR?!
Don't fret, as a few of us have wheels, and I'm sure we can carpool. For those that want the independence of their own gasguzzler, just rent a zipcar! (did you know that zib means penis is Arabic?). There is no 'P' in the Arabic language. It's substituted for 'B', so, well, you get the point. They don't have much business in the Arab world...

OK - gotta get back on track here. Natalia and I will be driving up to the barn at some point on Friday morning, as I'm underemployed, and Nat is playing hookey from work. For those of you unlucky enough to be slavin' to the man, you can arrive anytime after 1pm, and up till whenever the hell you get there.

It might be cool to all grill out together on Friday night. Hannah's kitchen is also stocked with whatever we might need to prepare n'cook our shit, and we can do up a good meal. I'll get more info together on this and email it to all who RSVP soon. Then, after the dishes are done, and before we start drinking too heavily, I propose we go roll a few at the local bowling alley (no Tom/Markus, I don't mean rolling that)... www.pinstreet.com/warwick . Or, we can just stay at the barn and screen some creepy dirty Grindhouse fliks, or do whatever the hell else you wanna do!

On Saturday, if it's sunny n'nice, as it better be, I'd say we find a lake to go swimming at. For those of you who ain't swimmers, you could check out the town of Warwick, as there's actually quite a lot of stuff to do/see. Saturday night I say we go to the Drive-In, and then Sunday, well, we all nurse our hang-overs and have a late brunch before heading back en masse to the Big Bad Apple.

So ya'all, what do you say? This is our Big Grand Idea for a Grindhouse Weekend SHINDING! If you are in, or want more info, call, text, or email me back ASAP. Although we're not planning this till the end of July, we need to find out who is interested and available and wants to come. If you have friends that you want to invite, you need to ask me first, but it will be OK, as long as they are hot single women under the age of 23. WHAT?
Natalia, I'm only asking that for Marcuss!!


My cell # again is (347)[masked].

Here are some other links to things to see/do up in Warwick:


www.warwickdrivein.com
www.townofwarwick.org

Wawayanda State Park : http://en.wikipedia.org/wiki/Wawayanda_State_Park
Wawayanda State Park is a 16,679-acre state park about 15 min. away from the Barn. There are 60 miles of hiking trails in the park, including a 20-mile stretch of the Appalachian Trail.  The park also has a glacially-formed, spring-fed lake with a swimming beach and boat launch and group camping.  Not to be missed.

Warwick Valley Winery : www.wvwinery.com
Vino and Musica. Sweet.

Warwick Farmer's Market : www.warwickinfo.net/farmersmarket/index.html
Local = Good.

Pennings Farm Market : www.penningsfarmmarket.com
Food, Pub, Ice Cream, Music, Farm Animals. Any questions?
Across the street from the Drive-In, I'd highly suggest you all consider eating at Pennings beforehand and bringing some hard apple cider and apple crumble to the movies. YES.

Bellvale Creamery : www.bellvalefarms.com
Quite possibly the best ice cream on the planet.  Great views - try to time it so you can enjoy the sunset money shot.

Rogowski Farm : www.rogowskifarm.com
Awesome farm with an awesome brunch.  Tell Cheryl Hannah says hiya.

The Eclectic Eye Antique store : www.theeclecticeye.com
Tell George I said hiya and to give you guys a sweet deal.

Jenack Auction House : www.jenack.com
Antique-a-holics beware.

Warwick Town Park Frisbee Golf Course :  www.frederickfranck.org
World-class frisbee golf course with over 72 holes.  Great place for a picnic too.

Pacem en Terris / Peace on Earth : www.frederickfranck.org
This place is a gem with running stream, man-made cave and sculptures by Frederick Franck. Get your meditation on.

White Cloud Warwick : whitecloudwarwick.com
Let me stretch y'all on the rack out while you're here. It looks torturous (mwahaha), but feels oh so freakin good.
I also teach group Gyrokinesis classes here on the property and in town for anyone interested.

http://en.wikipedia.org/wiki/Kaaterskill_Falls

* note that this is 1.5 hours drive from Warwick, but most DEFINITELY worth going to. There's a little place to swim there too, and you can, if you are very careful, climb up along side the falls to the top, but if you fall, you're on your own...


FAWN'S LEAP and THE RAT HOLE are also up there (a 10 minute drive from the falls), which are friggin' AWESOME places to cliff jump and swim!!

www.northeastwaterfalls.com/waterfall.php?num=575&p=0
THE BLUE HOLE is also a 1.5 hour drive from Warwick, but in a different driving direction from Fawn's Leap and Kaaterskill Falls. The drive time between the Blue Hole and Kaaterskill Falls/Fawn's Leap is around an hour and 15 minutes.

www.swimmingholes.org/ny.html


HERE IS THE INITIAL RESPONSE WE GOT FROM HANNAH WHEN WE CONTACTED HER ABOUT RENTING HER PROPERTY:

Greetings Grindmaster Michael and Cherry Bomb Natalia,

To be honest, you had me at 'krazy 70s Grinhouse fliks.'  You guys definitely sound like my kind of peeps.  I am quite fond of quirky/odd/insane/hardcore weird/exploitation/horror/random/disturbing fliks.  Sign. me. up. As such, I'd love to entertain the idea of a group of you Grindhousers coming to the Barn this Summer.

I wanted to also mention that I sometimes project films here on the side of the Barnhouse.  The Drive-In Theater is mighty dandy, but the films there generally suck (I've dreamt of purchasing that biz and having Russ Meyer nights!).  Might you guys be open to me inviting some of my amigos to the showing as well? Just to be clear : the rental section of the Barnhouse is 2bd/2ba with an extra nursery/bedroom where some folks have set up an inflatable mattress situation, etc.  It's a bit of a tight fit, but I've had a few groups of 6 stay there.

I've never done it before, but am totally open to the idea of offering my extra bedroom and/or couches on my side of the Barnhouse as well.  There is plenty of lawn space for folks who are interested in 'tenting it' as well. I thought maybe instead of charging more for the addl. people / bedroom / couch / Barn space, we could either barter couch space and/or biz skillz and/or whatever?  I'm open to suggestion, but am honestly just excited for the idea of having you all here this Summer.

Lemme know your thoughts...
Cheers, Hannah
www.hudsonvalleybarnhouse.com
THE BLACK KEYS "HOWLIN FOR YOU" - DIR. CHRIS MARRS PILIERO from Christian Sprenger on Vimeo.