This month's book is:
The Golem and the Jinni by Helene Wecker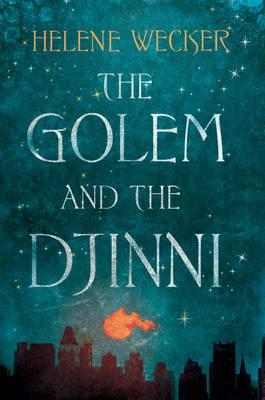 Chava is a golem, a creature made of clay, brought to life by a disgraced rabbi who dabbles in dark Kabbalistic magic. When her master, the husband who commissioned her, dies at sea on the voyage from Poland, she is unmoored and adrift as the ship arrives in New York in 1899. 
Ahmad is a jinni, a being of fire, born in the ancient Syrian desert. Trapped in an old copper flask by a Bedouin wizard centuries ago, he is released accidentally by a tinsmith in a Lower Manhattan shop. Though he is no longer imprisoned, Ahmad is not entirely free – an unbreakable band of iron binds him to the physical world.
They fight crime! (No, the description doesn't say that. It just ends there. I added that. -M)
This book is available at Amazon, Barnes & Noble, and Kobo, digital or otherwise.
* * *

IMPORTANT RSVP POLICY

If you RSVP and find you cannot make it, please change your RSVP so that we are not waiting for you. Please change it no less than two hours before the scheduled meeting time. If you RSVP and do not show, you will have to pay $10 when you attend your next event. This is to prevent those on the waiting list from missing out on an event.

The RSVP policy is the same as for the general meetup. Please see the entire policy here:
http://www.meetup.com/NYSciFi-Fantasy/pages/Membership_Policy/


* * *


We will be meeting at the Citigroup Atrium.
There's an entrance at 53rd and Lexington Avenue off the 53rd and Lex subway stop. You have to go down the steps; the subway station will be on your right and the Atrium will be straight in front of you. The doors are labeled.


There is a Barnes and Noble (with a Starbucks inside) on the next level up at 54th and 3rd. If you enter through the B&N, you will need to go through B&N (up a few steps from the entrance), past the NOOK display to the glass doors and down the escalator to the atrium.


We're generally pretty easy for newcomers to recognize--if in doubt, look for paper copies of the book on tables.


There's free wi-fi and restrooms in the Citigroup Atrium. Please let me know if you have any questions about the location.


We prefer that you finish the book, but if you don't, you're still welcome. (But the entire book is fair game for discussion!)


Please let me know if you have any questions or future book ideas! I hope to see you there!



Also, join our Goodreads group!

http://www.goodreads.com/group/show/57070.NY_Fantasy_Book_Club