Fresh Sierra snowmelt and other runoff flowing down the Sacramento and San Joaquin Rivers meets the salty seawater of Suisun Bay near the Antioch Bridge. This tidally and seasonally shifting demarcation between the two major types of aquatic habitat is known as the Low Salinity Zone. The location of this freshwater boundary also determines how much water can be diverted to support agricultural production.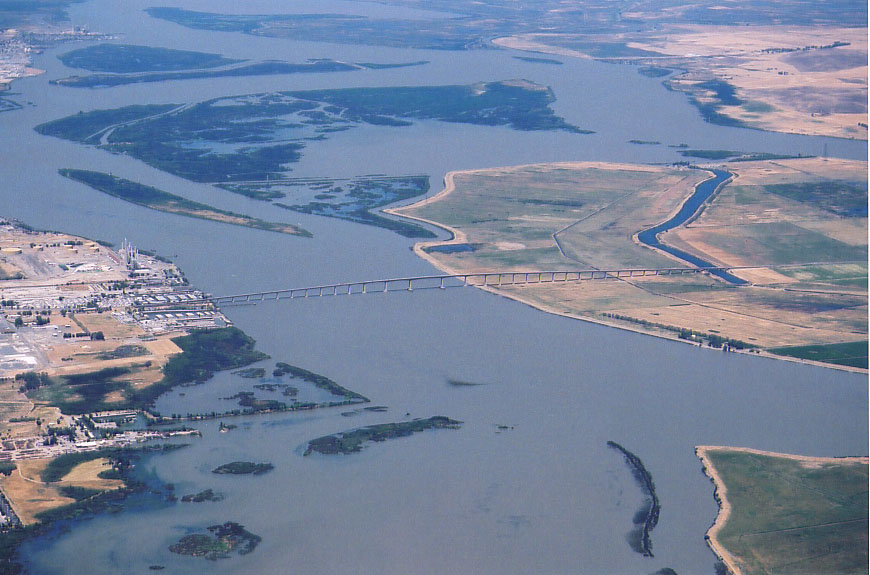 Sacramento and San Joaquin Rivers flowing into Suisun Bay near the Antioch Bridge. Sherman Lake (top center) and nearby Sherman Island County Park (top right) will be the focal point of the day's activities. -- photo by Rich Prillinger
A near-king tide on Friday, July 11th (chart) in combination with the ongoing drought will bring the salt level closer to Sacramento than normal. To investigate this interesting situation we will join with the California Department of Water Resources, California King Tides Project, high school students, and citizen scientists to:
• Fly a small quadcopter that will land on the water to measure salinity, temperature, and flow gradients in this habitat transition zone.
• Use aerial cameras to image the area during high and low tides, which can then be processed into large highly-detailed orthomosaics as well as 3D-mesh photogrammetry models.  
•  Bioblitz and otherwise observe and discuss the local flora and fauna to help understand the affected habitat.
•  Try other fun apps and gadgets -- smartphone microscopes, electronic field guides, DIY water sensors -- bring it along and we'll try it out!
Join us for this historic gathering of students, environmental professionals, and nature nerds as we explore this rich and dynamic ecosystem!
Schedule
AM
9:30  - 10:00 :  Introductions & Orientation
10:00 - 11:30 :  Low Tide Aerial Imaging & Water Mapping
11:30 - 12:30 :  Lunch
PM
12:30 - 3:00  :  BIOBLITZ & other nature explorations
3:00  - 3:30  :  Afternoon Break & Bioblitz Wrap Up
3:30  - 4:30  :  High Tide Aerial Imaging & Water Mapping
Getting There
• How to drive there ($5 parking fee)
• Parking may be limited, carpools and Pittsburg/Bay Point or other BART pick ups are encouraged. Please use this Meetup's comments section to arrange them.
• You may be able to arrange a ride from BART via the on-demand Delta Breeze 52 bus, but you must schedule it ahead of time. These buses also have a bike rack.
What To Bring
• The weather will probably be windy and sunny so bring hats, sunscreen, and layers. 
• Bring Your Own Lunch and water bottle -- snacks, fruit, coffee, tea, and ice provided.
• Don't forget binoculars and cameras!
• If you haven't yet participated in one of our grassroots bioblitzes, be sure to load the iNaturalist smartphone app on your iPhone or Android device and sign up for an iNat account.
• If you are an experienced small boater or kayaker and can bring and manage your own watercraft, there is a  boat ramp at the park, and there will be plenty to see from out on Lake Sherman. We can't organize this but please let us know in the comments if you plan to float or fly something.