Hi,
Location: Shelton CT (near New Haven)
Contact: tagtrumbull @juno.com (no space)
Sample picture: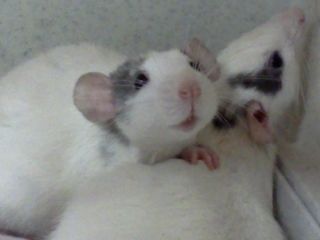 Details from Cindy:
I have a situation I am working on where a woman has about 50 pet rats in her home and is completely overwhelmed and seeking help. I use the word hoarder only in terms of the number she has but, fortunately, they all seem to be pretty healthy and well cared for. The living situation is surprisingly clean. She has lots of Dumbos and Rexs and a few that are a mix between the two. Lots of young ones and some adults. She has done her best to at least separate the males from the females. She does take them to the vet when needed. We have taken 10 out already (6 boys, 4 girls) and they are in good shape. No obvious parasites and not too bad socially (some better than others). I think 2 of the females we took may be pregnant as she didn't separate them in time so unforunately the number needing help might increase.
If anyone can help, please email me back at tagtrumbull @juno.com The rats are located in Shelton, CT and we can help arrange transport if anyone can help by even taking a couple.
Many thanks.
Cindy
posted for Cindy by Raquel
Contact: tagtrumbull @juno.com (no space)
Edited by Raquel on Sep 24, 2013 1:58 AM