Mistakes to Avoid on first date and How To Get a 2nd Date

If you're consistently not getting a second date, then chances are the reason you are getting the same behavior from all of the women you take out has to do with the only constant in the equation: You.
Before you waste anymore time, make sure you're taking the following precautions on your next date.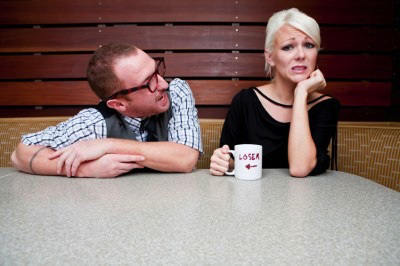 1) End the date after and hour. An hour and a half tops. Why? The reason for this is because if you are an unseasoned dater or are just getting back into it, your energy level can be your best friend or your worst nightmare. When energy levels drop, your lovely date will with no doubt be bored. On the other hand, if your energy is too high, she will most likely try to bring your energy down by asking interview like questions. The goal of your first date is to see if your personalities match. Therefore, you shouldn't be boring eachother to death with census like question that don't lead to rapport. And most importantly, you can't screw up much in an hour!
2) Listen more, talk less. Do you have a case of motor mouth? This is a huge mistake that men make. A good way to think about it is to be "interested rather than interesting". Most men think they need to "impress" women with something they say. Not to mention, most women complain that they can't get a word in with a guy because he's always talking. A conversation takes two people,but on the first date, make sure you're letting her bright, feminine personality shine through. Pauses are your friends, if you've talked for a while...pause.. let her fill it in. Plus, when you're listening, it's a good excuse to look at her.
3) Don't talk about your Ex: This seems like it would be self explanatory but somehow this is a taboo topic that comes up on a first date, because a woman is more likely to bring it up. She wants to see how you will respond to it. It does nothing for either of you. Why would you want to be talking about your ex while you're out with someone new or vice versa? An ex is an ex for a reason, so give everyone a fair chance. If she brings it up, just glance over it and move to another topic. Plus, there are a million other things to talk about! And on that note, avoid other taboo topics like religion and politics. Reminder: Opinions are funny things. They can attract or repel people faster than anything else. Err on the side of caution.
4) Execute follow up correctly. Do you want to see her again? If the answer is Yes, then here are a few tips to follow. First of all, NEVER try to set up the second date while on the first date. It comes off as needy and can turn her off (even if she's interested!) However, wait no more than 2-3 days after a date to contact her. I'm a fan of 2 days. It gives both parties a chance for emotions and energy to settle. Some guys think the longer they wait the better. False. The lull doesn't make her want you more, in fact, it does quite the opposite. Don't text, call. A few days after a date pick up the phone and give her a call. And if you want to see her again, have a plan for second date before you get on the phone.
_____________________________________________________________________
NYDC Female Perspective Coach
Antonia Geno
To learn more about Antonia and NYDC team, take you free dating evaluation.You can learn about Antonia and NYDC team here.