We will meet at Karl Strauss at 530pm for Happy Hour then go see Magic Mike Movie. Movie starts at 810 pm. We will walk to the theater at 730p.
Edwards Metro Pointe Stadium 12 Add to Favorite Theaters
901 South Coast Drive, Costa Mesa, CA 92626
Happy Hour
Mon-Fri 4:00p-6:30p

Beers, Wells, Wines and Flights $4

Select Apps $5
Including:
Crispy Calamari
Boneless Wings
Spinach Dip
Spicy Hummus
Sweet and Stinky Fries
Sweet Chili Lime Fries
If you are going to HH type "HH" in white box when you RSVP yes. Thanks.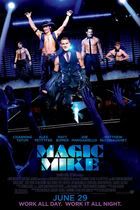 Magic Mike
Opened June 29, 2012 | Runtime:1 hr 50 min
R Language, Brief Graphic Nudity, Pervasive Sexual Content and Some Drug Use
Information for parents: Common Sense Media says not for kids. Read More

A male stripper (Channing Tatum) takes a newcomer (Alex Pettyfer) under his wing and instructs him in the fine arts of partying, picking up women, and making plenty of money.

Cast: Channing Tatum, Alex Pettyfer, Matthew Bomer, Joe Manganiello, Matthew McConaughey, Cody Horn, Olivia Munn, Riley Keough, Kevin Nash, Adam Rodriguez
Director: Steven Soderbergh
Genres:

Comedy