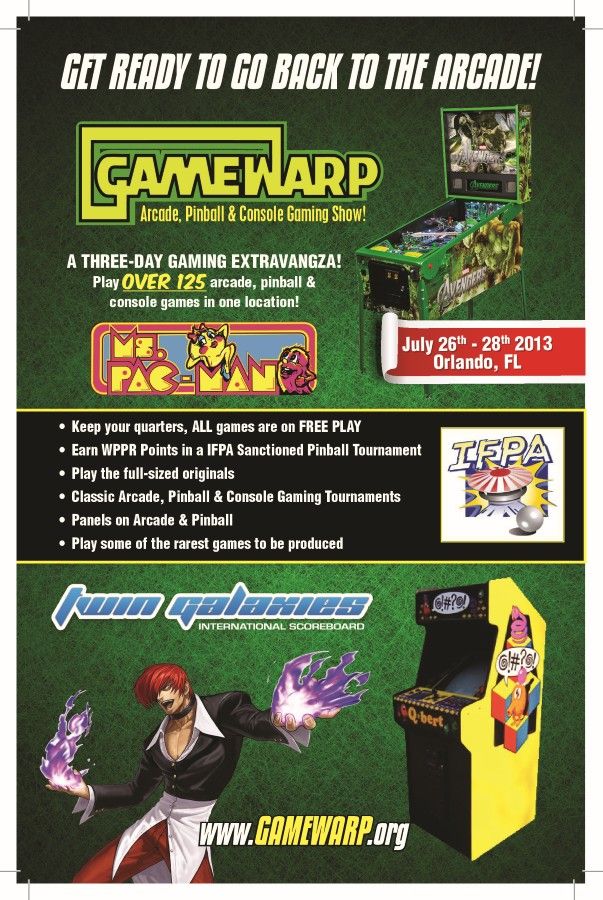 Game Warp is a 3-day Arcade, Pinball and Console gaming show held at the International Palms Hotel in Orlando Florida on July 26th - 28th, 2013. This will be our 3rd annual show. Each year we strive to bring a unique gaming experience to Orlando reviving the arcades of yesteryear in a fun and interactive convention.
At Game Warp you can play over 150 Arcade, Pinball and Console games on our game floor. Each game is on free play so leave your quarters at home! We also have a variety of events, panels, guests and tournaments scheduled throughout the show weekend. Game Warp is a show run by gaming enthusiasts with a true love for these machines both classic and new. Each year is our goal to provide a world class gaming experience to you.
Located in the heart of Orlando's International Drive Game Warp is a great event to plan a family trip around. Our Hotel is within walking distance of many attractions and within a quick drive of all of the major theme parks.
If you are a classic gaming hobbyist you will find extra value in our panels and workshops on game repair and restoration. A variety of machines will also be available for sale on the floor as well. You can also meet local gaming celebrities and compete against some of the top players in the country in our various tournaments. If you love gaming then you can't miss Game Warp!
http://www.gamewarp.org


Set up: