Aug 11, 2013 · 11:00 AM

This location is shown only to members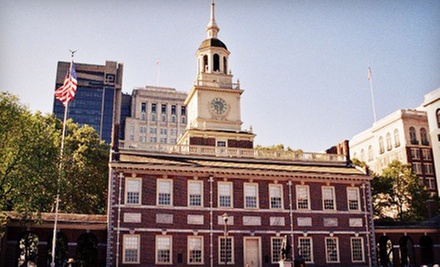 The Independence Visitor Center
$17.50 per adult*
$12.50 per child*
(ages 3-12)
Guides lead groups on foot through the streets of Independence Mall, the heart of America's first multi-year capital, covering 1.25 miles rich with city and national history in just 75 minutes. The tour includes stops at more than 20 sites, from a starting point at the National Constitution Center to the Liberty Bell, Declaration House, and Carpenters' Hall. Tours are scheduled every Monday through Saturday at 10 a.m., noon, and 2 p.m., and every Sunday at 11 a.m., 1 p.m., and 3 p.m.
The Constitutional Walking Tour
Philadelphia's centuries-old cobblestone streets, monuments, and buildings are brimming with history—but it takes an expert to extract it. The knowledgeable guides at The Constitutional Walking Tour lead visitors on journeys through areas accessible only by foot, giving an up-close perspective of America's first planned city. A variety of tours wind through such sites as Independence Mall, taking groups past landmarks including Independence Hall, Christ Church, the National Constitution Center, Declaration House, and Old City Hall. At each site, experts weave together the details of landmark events such as Thomas Jefferson's drafting of the Declaration of Independence.