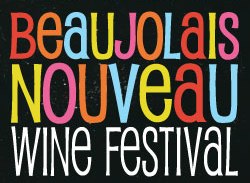 I will be attending this event but I will not be hosting for this group.  I would of course love to see you there if you come so do say hi and share your thoughts on the food and wine with me.  I want to encourage people from this group that plan to go to RSVP here to let others know and please feel free to use the e-mail or comment feature to organize yourselves to meet at the event.   Don't forget that an RSVP here does not get you into the event - you must follow the instructions below and buy your ticket!
11th Annual Beaujolais Nouveau Festival, Friday, November 16
November brings the event of the year that draws food and wine lovers from Oregon, Washington and even California: the outstanding 11th Annual Beaujolais Nouveau festival presented by the French-American Chamber of Commerce and the Alliance Française of Portland.
This event will be at the Heathman Restaurant & Bar (the Tea Court and all the rooms on the Mezzanine level of the restaurant) on Friday, November 16, 2012, at 6:00 p.m. and features multiple wine-pouring stations, a wine & art auction, fabulous food stations, and of course Beaujolais nouveau wine shipped over from France, just days before!
Tickets are $70 for regular guest ticket (includes all you can eat and all the wines as well),
A small number of VIP reserved tables (seating 8 in a special section) are also available for $1250 (reservations for those can also be ordered online).
Click here to reserve tickets online. Email [masked] with questions.
Must be over 21 to attend. IDs will be checked at the door.
Tickets will not be mailed. Names will be asked at the check-in. This is a special event. Due to guarantees for venue and catering, refunds and credits are not allowed for registration cancellations under any circumstances.