SAVE THE DATE--10/13 Dog Days of Harvest Open House

MOST MARVELOUS MUTTS!
We couldn't think of a better way to celebrate the harvest of 2012 and all things Mutt Lynch, than to invite old and new friends alike to join us for an event we lovingly refer to as THE DOG DAYS OF HARVEST.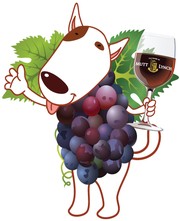 This autumnal soiree is your opportunity to taste our newest releases, pick up your club selections and futures (2010 mbf Primitivo & 2008 mbf Zinfandel) and learn a little more about what goes on around here during harvest. Perhaps we can interest you in tasting some still fermenting wine and telling us what you think?
We also want you to meet the good folks from The Green Dog Rescue Project.
The Green Dog Rescue Project is an awesome organization with a mission to replace the current shelter model with a nature-based alternative that provides dogs with the socialization they need to truly thrive. In addition to their presentation materials, the good folks from Green Dog have ageed to bring a few adoptable dogs to the event. WARNING: PREPARE TO HAVE YOUR HEARTS MELTED!
WHAT:          Mutt Lynch Dog Days of Harvest
WHEN:         Saturday, October 13th
TIME:            11:00 a.m. to 4:00 p.m.
WHERE:       602 Limerick Lane, Healdsburg CA
TICKETS ARE $ 10.00 AND INCLUDE LOGO GLASS/FREE TO CLUB MUTT MEMBERS
All ticket proceeds will benefit The Green Dog Rescue Project.
So save the date and tell a friend. Share our: EVENT FLYER. Who could say no to this? Surely not You!
Looking forward to seeing you there,
Brenda, Chris & Patch
P.S. Are You Social? We're pretty social, so don't forget to Like/Follow/Tweet/Review:



P.P.S. Can't make it to the winery but need desperately to buy more wine? Please visit our: Wine Shop or call us direct at:[masked]-6180.

Read Other Latest News!
If you received this email and did not subscribe you can unsubscribe by clicking here
Mutt Lynch Winery, 602 Limerick Lane, Healdsburg, CA 95448, (707)[masked]