The plan to do August's monthly ride in SF is in need of some more planning and judgment of suitability for our mixed group so we will not be going to SF for August's Monthly Ride. However....
Meet at 9:30 AM at the parking lot for the Big Break Regional Shoreline Visitor Center in Oakley (free parking) to do a flat ride of ~25 miles. This is a surprisingly enjoyable trail. Come on out and enjoy a relaxed pace, typically with bird, fish, and turtle sightings. Optional lunch at Black Bear diner afterward. There is also an mildly interesting relief map of the Bay Area made out of colored concrete (Mt. Diablo is about 18" high).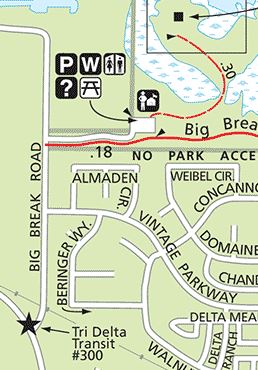 See http://www.ebparks.org/parks/big_break#access_info for where to park or for a closer detail.
ROUTE: For the route we will take, refer to the route Ron has taken the initiative on and posted at: http://ridewithgps.com/routes/5609259  
If someone wants to meet at the Pittsburg BART to get in an extra 30-ish miles, let me know and I'll meet you there. Some steep rollies if we take the bike trail like we did the last time we rode from BART to the starting spot.