PLEASE NOTE THAT WE MOVED THE MIXER START TIME UP ONE HOUR TO 6PM. WE HOPE THIS HELPS THOSE MEMBERS THAT PREFER TO ARRIVE AND PERHAPS LEAVE A BIT EARLIER.
Every month gay men get together at our informal mixer.
Come along and you'll be made welcome - we'll look after you and introduce you to the guys (don't worry no group intro's). It's a great way of catching up with people you know and for making new friends. Yes, absolutely, BRING A FRIEND (OR TWO) with you.
Located in the hotel lobby, Amourath 1819 features an expansive adjacent patio featuring fountains and fireplaces. Unwind by sipping one of Amourath's many specialty drinks or take pleasure in a glass of wine from their extensive wine list.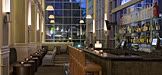 Amourath offers our group the following deliciously priced food & drink specials from 6-10PM:
SMALL BITES :: $7.00
Grilled Chicken Skewers
with a spicy peanut dipping sauce
Mini Ground Beef Tacos
with roasted tomato salsa
Asparagus Fries
with Red Pepper Aioli
Grilled Flatbread BLT


CANVAS HOUSE WINES :: $6.00
House Wine
Chardonnay, Merlot or Cabernet
LIBATIONS :: $8.50
Absolut Wild Tea Gimlet
Absolut Wild Tea Vodka, fresh lime juice and simple syrup
John Daly
Absolut Wild Tea Vodka and lemonade
Ginger Tea
Absolut Wild Tea Vodka, ginger beer and lime
Absolut-ly Bloody
Absolut Peppar and housemade bloody mary mix
Jameson Ginger
Jameson Irish Whiskey and ginger ale
Beefeater Daisy
Beefeater Gin, lemon juice, grenadine and soda
We take care of our servers - a 20% gratuity is added to each check.

WHEN:
Friday, March 4th, 2011
6PM - 10PM

ADDRESS:
Amourath 1819
Hyatt Regency Sacramento
1209 L Street
Sacramento, California 95814
(916)[masked]
MAP & DIRECTIONS:
http://maps.google.co...

PARKING:
FREE parking on the streets after 6PM, BUT be careful to read the signs.
Hotel parking rates are as follows with validations:
Valet Parking
* First 3 Hours $5.00
* Each additional half hour $2.50
* Maximum is $25.00

Self Park
* First 3 hours are free
* Next hour $5.25
* Each 20 Minutes $1.75
* After 5 Hours $20.00

COST:
No Cover
Whatever you eat & drink

It's very important that we accurately forecast attendance with host venues; please help by not no-showing - thanks!
SPONSORED BY
JOSE RODRIGUEZ HOMES
Finding My Clients Their Dream Home | Trilingual Realtor
It would be my pleasure to assist you with your property search.
My website provides all the tools needed to find the property right for you. View current listings, search for property, or sign up to receive Property Alerts, my service that sends you an email when a new property that may be of interest becomes available. Click here to visit Jose Rodriguez Homes on the web.
Main Office:[masked]
Direct:[masked]
Mobile:[masked]
Fax:[masked]
Email: [masked]
1819 K Street, Sacramento, CA 95811
DRE Number:[masked]
Additional Languages: Italian, Spanish
STRATEGIC TAX & ACCOUNTING GROUP
'Taxes, Accounting & QuickBooks'
SPECIAL OFFER FOR SACRAMENTO GAY MEN: Members receive a 25% discount on tax preparation fees or 20% discount on first months accounting services for new clients.
Jessie Ivey
[masked]
Yolo/Sacramento County Office
725 Main Street, Suite 9, Woodland, CA (3rd & Main)
[masked]
Bay Area Office
5429 Telegraph Avenue, Oakland, CA off Highway 24!
[masked]
Competitive rates with great personal service!
From your personal tax needs to business startups, record keeping, payroll, human resource guidance, bookkeeping, business tax fillings, tax issues, business tunes and business trouble shooting, we have the years of proven hands on experience to guide and help inform you to be successful. A team of local business and tax professionals await to meet your needs head on with up to the minute information! Give us a call, we will be happy to speak with you and tailor services to meet your individual needs.