'Becoming a Master'
photography workshops presents
Michael Seewald's
Carmel California, Three Day,
'A-Z everything there is to know,
compositional and technical', photographic workshop.
If you can only take Friday and Saturday, it's $200 less!
_____________________

this is a BONUS CLASS -
All participants that sign up for all three days will receive a signed,
Michael Seewald original photograph of choice,
approx. 11x14 in size, valued at $750! WOW!
______________________

"..I thought he did a great job of explaining everything. He was very patient with us and didn't make us feel bad when we didn't know or understand things....
...I went into the class hoping to learn the manual functions of my camera, as I had never learned that. I've tried reading books and it just never "clicked". I really felt that I got it after day one, and after day three I felt completely comfortable. ...I learned a LOT about all the functions on my camera I never used and feel like that was a huge benefit. I loved that we went out and "shot" in the field so that we could really get comfortable with the new ideas and techniques we were learning.

Michael picked beautiful spots to shoot. ... I really look forward to taking more classes ..."
Pamela Scholten,
Class of 2.25-27.'11
Intermediate photographer, Anaheim, CA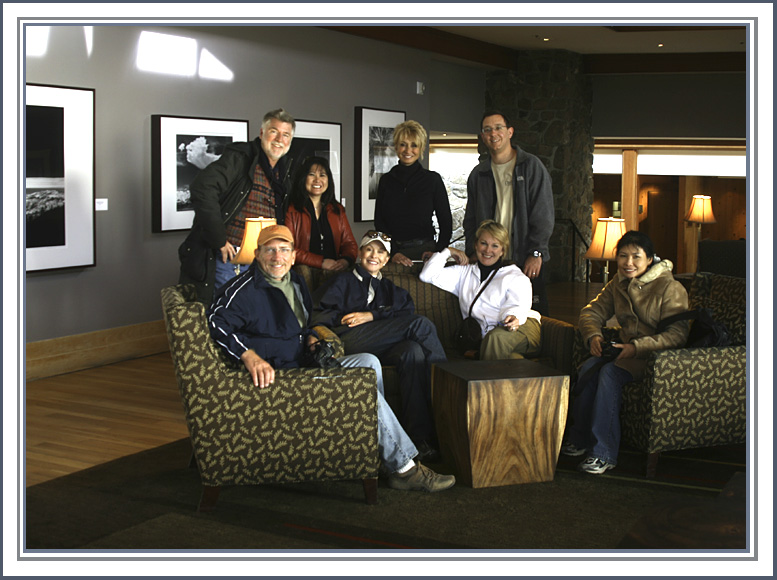 Michael poses with some of his Carmel class students
at the Highlands Inn, April 2008

Note: Karla Stevens, beginner, taller middle lady in upper row, has her testimonial below.
Carmel / Monterey
'fun-shops' with Michael Seewald
"These two and three day Carmel photo classes/ workshops (aka 'fun-shops') are not to be missed. They generally fill up fast and provide great images that you will be able sell, if you are wanting to that is, Or to just hang them on your walls for you and your friends to appreciate for the rest of your life- guaranteed." MS
This is one great place to take an outdoor workshop. We not only learn all of the basics of good compositional factors but receive all of knowledge so we can use the technical skills needed to make them as well. We have a chance to apply all of the new knowledge in one of photography's heartlands. Ansel Adams, The Weston's (Edward, Brett and Cole) and a multitude of other serious fine art photographers (artists) have called this unique place home.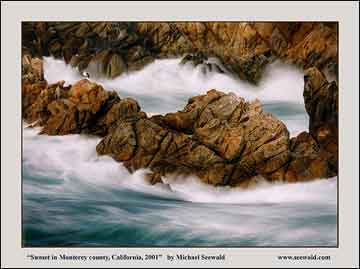 Point Lobos State Park, Carmel California
by Michael Seewald. All rights reserved.
We will usually work many of the areas best photogenic spots: Cannery Row; Big Sur; 17 Mile Drive; Fisherman's Wharf (night photography); Point Lobos; the Carmel Mission; the 'Barnyard' mall with it's terraced flower gardens; Carmel Village and quite a few other locations on and off the beaten path.
We will visit many of the photography and painting galleries in Carmel where Michael will point out how the compositional elements were used properly, or as in 90% of the time- improperly, and in no time the students are critiquing the art with that same critical eye.
_________________________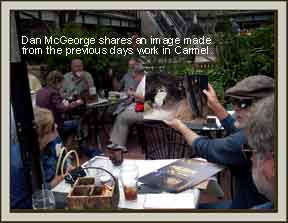 Photo copyright Michael Seewald 6.30.'05. All rights reserved.
Students shares images
made during the previous days fun in Carmel.
_______________________________
"...The workshop met my expectations. Delightful. Fun. Entertaining.

This is what I wrote in an email to one of my friends:

"Last weekend I participated in a wonderful Photography workshop (3 days) in and around Carmel. The hands-on work was done at the the most beautiful and inspirational spots in Monterey County; The Mission, Old Town Monterey, Point Lobos, The Barnyard, Carmel by the Sea... What a wonderful place – where better to practice a new way of seeing and exercise my imagination.

The days averaged 9 hours plus gallery walks that followed. ...

The workshop is done in Carmel twice a year by Michael Seewald -(www.Seewald.com) he is funny, inspiring and entertaining as well as a master photographer - all the techie stuff would NOT have been lost on YOU - as for me, well, time will tell, I hope to hang on to some of the techie stuff and at least be able to create some beautiful art, with a camera, when I go to Europe in June. I was there for the inspiration, the brain exercise, to hang out w/ my Mom and Aunt Elise and for the creative stimulation - I was not disappointed and am blessed, really, holy cow, how great is this life!!"
How_helpful_was_class: 10 - Very helpful
How_satisfied: 10 - Very satisfied
value_for_the_money: About right
quote_me: ON
name: Karla Stevens, Salinas, Ca
_________________________

$200 to reserve your space.

Balance due 15 days prior.
Cancellation/refund policy: All classes outside San Diego county- cancellation policy as of 11.1.'11 60 or more days before class, a certificate good for a future class will be issued (good for one year). With less than 60 days before class: No refund nor certificate will be issued.
MORE INFO HERE:
http://www.seewald.com/carmel_california_digital_photo_classes_workshops.htm