Post #: 2
Mark your calendars for the Splash Dogs San Diego Boat Show Challenge to be held in January at the San Diego Boat Show. The event is beyond fun and many dogs go nuts to jump off the docks. The event is controlled and all dogs jump into a swimming pool. You'll see dogs jumping up to 25ft, the world record is 28ft. Every dog from lap dogs to BIG dogs can have fun jumping and compete for ribbons. If your dog loves water most likely he/she will love dock jumping. Please spread the word to your friends and other dog groups.
WHAT: Dock Jumping at the Boat Show
WHY: Because dogs can fly!
WHERE: San Diego Boat Show at the San Diego Convention Center
WHEN: January 4-7, 2007
MORE INFO:
http://www.splashdogs...
­ (check for weekly updates)
Post #: 77
cady LOVES dock jumping. can hardly control herself! here's a pic from the splash dogs event in lancaster (so focused, don't you think?). that's where i heard that they are coming to san diego. we are planning on going. i keep checking the website, but no details yet....
Edited by User 2,396,834 on Nov 10, 2006 4:52 PM
Post #: 4
Mission Control We Have Lift Off!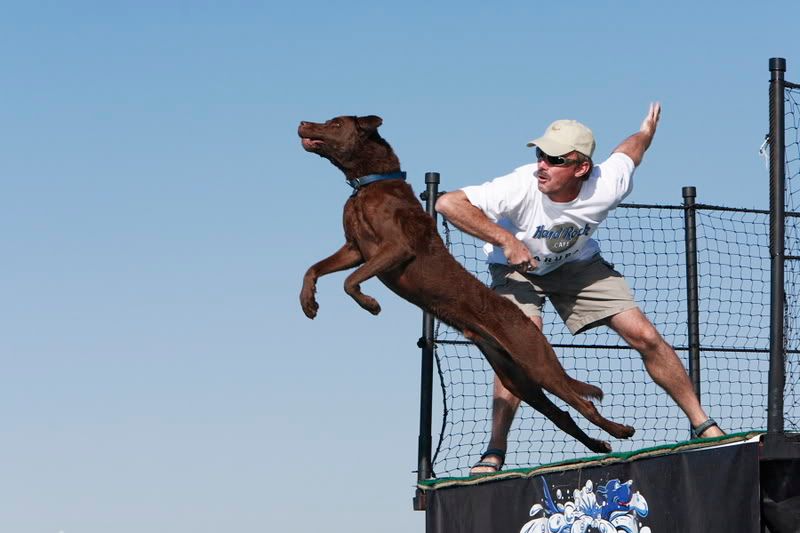 Post #: 49
Wyatt's littermate Willow is a dock jumping fool! Wyatt as of yet is not so sure it is a great idea and stands at the edge of the dog and tells the world he is not so sure about the idea, now throw a rat in the pool and he is there!Here is Willow his sister.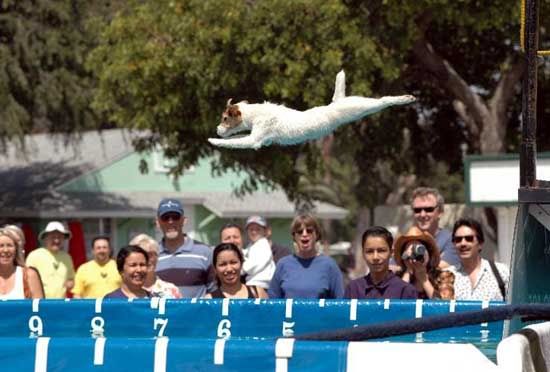 Post #: 78
rhonda, i think i've seen willow at some of the splash dogs events. she IS a dock jumping fool! and fun to watch!

craig, cool picture. is that you and your dog? i take it you are planning to attend this event? hopefully we'll get a chance to meet in person.

Post #: 5
Heather,

That is my boy Stanley and we plan to jump at the event. Be careful at the event as this sport is very addicting for the dog and the handler.

Post #: 79
i know! cady can't get enough of it. and i love how excited she gets. she's usually very well behaved, but at these events, she's always trying to cut in line! the little stinker. she runs off the ramp and back up the stairs and right off the dock again, if i don't get hold of her QUICKLY! but it's such fun. we can't wait. i wish there were more of these events closer. i check the san diego dock dogs sight every so often, but i don't think the sight has been updated since 2003! (by the way, stanley is very handsome!)

Edited by User 2,396,834 on Nov 10, 2006 7:01 PM
Post #: 50
Heather you know many people go down and practice at the dock at Fiesta Island.

Post #: 7
It is unfortunate that we don't an active club promoting dock jumping. San Diego Dock Dogs had great intentions but for reasons unknown nothing seemed to materialize outside of a few fun events, too bad because this is really alot of fun for everyone involved. Some really great dog jumping talent exist in San Diego, Orange, and LA Counties and I can only assume that many unknown dogs are waiting to be discovered. Southern California has the best year round weather for this sport and one can only hope that someday soon a dock will be available for man's best friend to jump. In the mean time I'll keep sneaking onto docks with my dog and hope that we never get to visit the judge!

Post #: 51
Craig then you know Melissa with Stryker and Bubbles? And all the Mals that jump? I used to run flyball with them.