Please join us tonight for the Datepress.com Launch Party Thursday, April 4th from 6pm-9:30pm at Pa'ina Lounge and Restaurant in the heart of San Francisco's Japantown at 1865 Post Street. Only $5 with http://datepresslaunch.eventbrite.com/?discount=WCevents discount code. This is going to be a fun event with 100+ RSVP's from our other websites and groups.
Amongst the celebration of the launch, we are excited to give our attendees full access to the invite-only datepress.com website! 

ENTERTAINMENT:

Attendees will experience a unique blend of music. Resident DJ & SXSW veteran, Jon Reyes of DLRN will provide beats to keep the party moving. 2010 United States Beatbox Champion, Frisco Romero will showcase his beatboxing skills. Attendees will also enjoy a special performance by the soulful sounds of Charito Soriano & FUNKCH3N.




Get to know a few of our date experiences with samples and live demos! We'll also be giving away many prizes including date packages that'll make your friends envious!

Alum Rock Studios will provide videography and step & repeat photography services for this milestone of a celebration. A live feed projection of your instagram photos taken during the event will also be on display!

Thank you all for your continual support! We look forward in celebrating with you soon!
ABOUT DATEPRESS: Datepress is an e-commerce website that provides date experiences to allow couples to save time by purchasing date activities offered by well-established merchants. Datepress customizes and pre-qualifies each activity on a variety of internal benchmarks to optimize the overall quality and relevancy, carefully selecting activities that blend together seamlessly to create a memorable date experience. 

While there are plenty of activities to partake in, we often get lost in the sea of coupons, deals, and emails sent to our inboxes. Datepress allows you to hone in on the unique experiences happening around you to create a memorable experience with your significant other. 

Currently in San Francisco. More cities coming soon!
This launch party event
Make sure to RSVP right away...this event will sell out!

Must RSVP for a discounted rate on Eventbrite @ http://datepresslaunch.eventbrite.com/?discount=WCevents
Without an RSVP on Eventbrite the at the door price is $10 if space is available.
Event Includes:
Event Location:
Pa'ina Lounge and Restaurant
Located in the heart of San Francisco's Japan-town.
1865 Post St
(between Webster St & Fillmore St)
San Francisco, CA 9411
Telephone:[masked]

Timing:
This VIP event is held on April 4, 2013 from 6:00 pm-9:30 pm
RSVP NOW so we can add you to the guest list! MUST RSVP in advance!!
At this point you have all the information you need...
... However if you want even MORE information feel free to keep reading

Who will be there?
Young Professionals who want to socialize, entrepreneurs, business owners, attorneys, bankers, real estate developers, physicians, technology gurus, sales and marketing experts and other professionals, along with others to socialize and meet new people.
How many people show up?
Our events have at least 50 people, up to 300 people depending on the venue. We make sure people are open and approachable, regardless of how many people show up... you will be able to meet and talk to anyone... our greeters will be there to make introductions and keep things moving.
What to Bring:
Bring your cards. Bring at least one card for Walnut Creek Events, so we can enter you in a raffle.
How to Dress:
This is after work networking, so even if you did not work...pretend and dress like you did! We all look good, when we dress professional. We always take pictures at our events, so you want to look your best!
Photography:
Our events are photographed for our Websites and Social Media sites. By attending our event, you give us permission to take photographs and use the images. All participants at our events are beautiful people and are subject to be photographed and used to promote future events.
About Walnut Creek Events: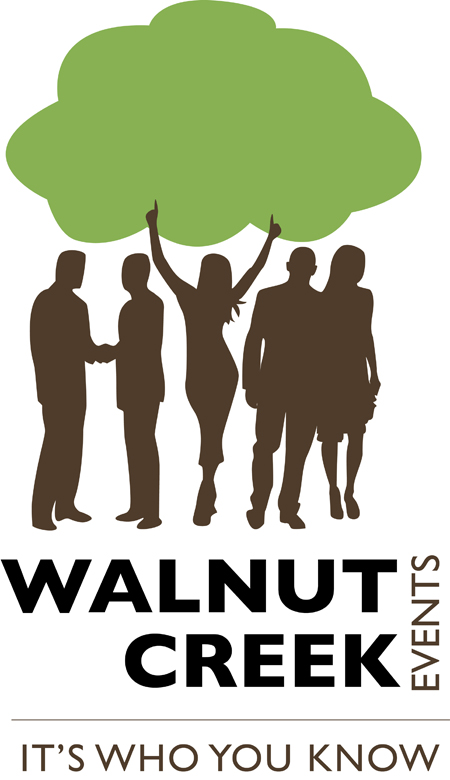 Walnut Creek Events are perfect for San Francisco East Bay professionals who want to connect with other professionals. Make new business and personal connections, build your network, find new clients, and identify business opportunities.
We make networking easy by having greeters at the door to not only welcome you - they introduce you to others, along with having events in elegant environments that makes it fun to connect with others.
Walnut Creek Events (WalnutCreekEvents.com) produces and promotes upcoming Walnut Creek Networking, Social Mixers and Business events in or around Walnut Creek.
We invite you to join us!
About The Organizer:
David Mitroff, Ph.D. is a Connector, Master Networker and Entrepreneur. David is the Founder and Chief Consultant of Piedmont Avenue Consulting (www.PiedmontAve.com) a San Francisco Bay Area based business development and marketing consulting firm. David and his team work with clients across numerous markets and sizes to create brand awareness, strengthen customer loyalty and streamline business processes. David is an active member, on the executive board, or advisory committees for several organizations. He continually collaborates with several consultant groups, merchant associations, and charities to best serve the community.
David founded Walnut Creek Events (www.WalnutCreekEvents.com) to better serve his San Francisco East Bay clients by producing and promoting high level networking, social mixers and business events in or around Walnut Creek that can bring attention to East Bay businesses and create new connections.
Want to Volunteer?
We are looking for volunteers to help out at our events. Please introduce yourself to us or email [masked] and let us know how you would like to volunteer and we can then better determine if their is a good fit.

Greeters

Photographers

Social Media Promoters

Want to be a Sponsor?
Advertise and promote your business to our huge audience across emails, at events, and on our website and social media sites. Please contact us to learn more and to determine if their is a good fit.

Gifts and Donations

Raffle Items

Food and Drinks


Event Space Sponsor
Fine Print:
The information provided by these workshops is intended for informational purposes only and accuracy is not guaranteed. The workshops are not intended to offer specific marketing, legal or financial advice. Each small business is unique, please consult with qualified professionals to discuss your situation.
Our events are photographed for our Websites and Social Media sites. By attending our event, you give us permission to take photographs and use the images. All participants at our events are beautiful people and are subject to be photographed and used to promote future events.