Volunteers Needed this Saturday to Help Us Nurture Natives at the San Marcos Foothills Preserve Saturday February 16
8:45 am to 1:00 pm Here is your opportunity to restore a wonderful natural area by helping CIR and the San Marcos Foothills Coalition nurture the native plants recently planted at the San Marcos Foothills Preserve Cieneguitas Creek site.

Hi volunteers:

Volunteers are needed to help nurture the native plants at the San Marcos Foot Hills Preserve Cieneguitas Creek site!  This kind of restoration project cannot happen without the help of volunteers like you!



No RSVP needed, but if you want to, please email: [masked]
To get to the restoration site (see map):
Take Hwy 154 north one exit to Cathedral Oaks Rd. /Foothill Rd.
Turn right (east) at the bottom of the ramp onto Foothill Rd
Travel past the stoplight at La Cumbre Rd. Turn left in one block at Antone Road.
Take Antone Road until it ends.Street parking is available.


Follow the trail through the gate then down the hill to the restoration site.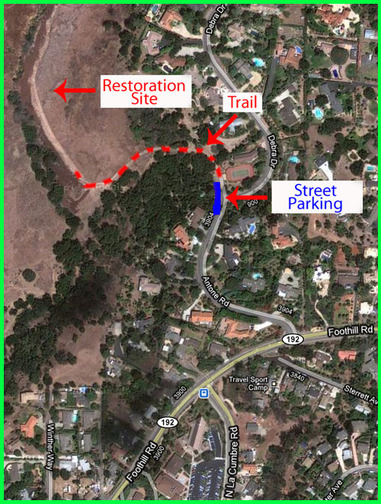 About the Preserve and the Project
For at least two decades, members of the communities adjacent to the San Marcos Foothills Preserve have worked to save this important natural area from development and create a community open space and nature preserve, saving rare native bunch grass prairie, burrowing owl and grasshopper sparrow habitat from development.  The proposed program is built around an important restoration project designed to improve wetland quality within the San Marcos Foothills Preserve, The goal of the project is repair and enhancement of approximately three acres consisting of a wetland seep and a riparian corridor along Cieneguitas Creek that have been damaged by long-term grazing and the recent Jesusita fire.
The burn area provides an important and time-sensitive teaching opportunity regarding vegetation recovery and erosion control. The project will remove a large amount of non-native vegetation from both areas and replant native species along Cieneguitas Creek with nursery grown plants from locally collected seed.  A creek buffer of 50 feet from the top of the bank will be established and maintained. Timely removal of weeds during winter and spring, and replanting with natives will repair damage, prevent erosion, improve watershed quality, and maintain and increase habitat diversity.
Nearly 1,800 native plants have been planted along Cieneguitas Creek during volunteer workdays in 2011 and 2012.  The program addresses a need to foster public awareness and encourage conscientious use of the Preserve (an area previously not open to the public) by the local community, to improve environmental literacy among local youth and adults and increase the number of stakeholders in the Preserve. The creation of a volunteer stewardship corps will address the important matter of recruitment, education and retention of sufficient volunteers to help maintain the Preserve for the public's benefit.  Funding for the project has been provided by the Goleta Valley Land Trust and the San Marcos Foothills Coalition.