PLEASE READ THE ENTIRE EVENT DESCRIPTION.
There is a cover charge to attend this event.
However, Idea to IPO members can attend for free.
Please RSVP here:
http://codingdojofebclassdemoday.eventbrite.com/
In order to have the cover charge waived, enter promo code:
IDEA-TO-IPO
Coding Dojo Demo Day - February Class
on Friday, April 26th, 2013
from 7:00 PM to 10:00 PM
at 465 Fairchild Drive in Mountain View
Come see the newest coding ninjas' awesome projects at the February class's Demo Day for Coding Dojo. Each student will be showing off their work from the last 9 weeks to friends, family and future employers at this open house event.
Coding Dojo students are a select group from a large pool of applicants that come from diverse computer science and even non-programming backgrounds. They learn HTML, CSS, Javascript, PHP, MVC, Ruby on Rails, MySQL, produce two to three individual projects over the 10 week, intensive course. Learn more at www.codingdojo.co.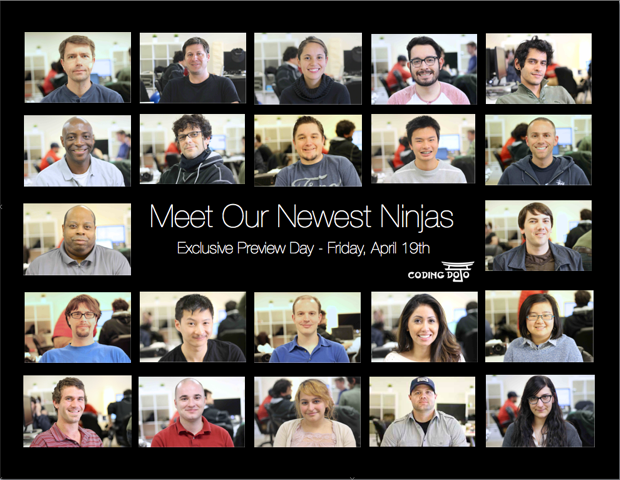 For more info, contact:
Michelle Crawford
[masked]