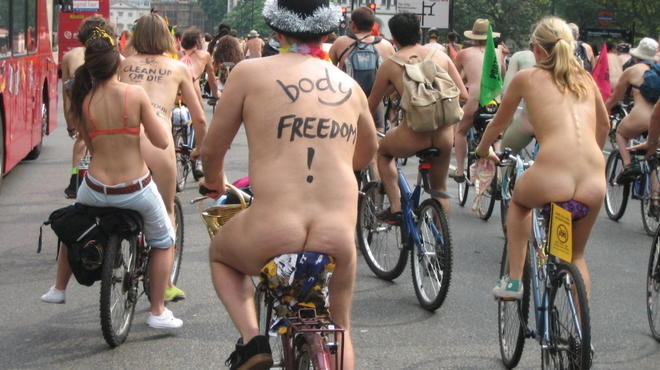 A shoot with a difference! The World Naked Bike Ride is a peaceful, imaginative and fun protest against oil dependency and car culture; a celebration of the bicycle and also a celebration of the power and individuality of the human body; a symbol of the vulnerability of the cyclist in traffic; the world's biggest naked protest: 50+ cities and thousands of riders participate worldwide, including around 3,000 in the UK each year. So let's document it! (And avoid being too voyeuristic, please).

There are various starting points throughout the day, so we'll cover the one starting from King's Cross.
We'll meet at the Parcel Yard till 2ish - it's the pub inside King's Cross station, and the entrance is up the stairs to the right of platforms 9-11 - and then join the race from there.
Please ensure I have your phone number so I can stay in touch with you, as it's bound to be crowded!
We'll meet in a pub afterwards. Please pay in cash on the day, and my number if you need it is 07944 861414.

(Is this a bit too risqué for this group?)