Come play pool and meet new friends.  Funabalu goes to Maclarens Pool Bar to pair-up for some good pool fun, beers, and conversation. Upscale pool halls, like Maclarens, are great places to socialize over a game that can be easily learned and a lifetime to master. Part of the fun will be for experienced players paired up with those less experienced, to share their love of the game with 2 on 2 action.  It's a great way to learn a skill that can be used both socially and recreationally. Even if you never played before, we're gonna have a good time this night, as Funabalu-Singles makes this March evening a pool party good time.  For those who want to eat at Maclarens, check out their menu .
Time: We will play from 7:15 pm to 8:45 pm and continue socializing afterwards.
Please RSVP early to show others this is the kind of event you want to support. Prepayment is necessary to confirm your reservation. If you cannot pay via PayPal, please arrange other means with the Organizer.
Increasingly, more and more women take to the sport. Some of the best pool players in the world, like Borana Andoni below, are women who have demonstrated a talent for the game and breaking down the misconception that it's a sport just for men.  Funabalu is proving it is a sport for singles too.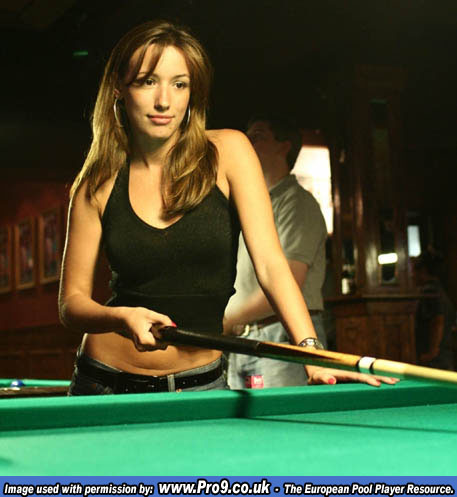 For an interview with Borana Andoni, go to:  http://www.pro9.co.uk/html/article.php?sid=994
Parking: There is ample street parking in the area, including a parking lot at Somerset and Metcalfe Streets.  Please arrive early enough to find a spot.