Purchase $12 tickets HERE Facebook Event Info HERE
Emperor Norton's Stationary Marching Band(Rock/Pop)

Emperor Norton's Stationary Marching Band is like a lively, slightly raucous blend of Eastern European vagabond music mixed with trash percussion and avant-garde dissonance that effectively sets the tone of the show and keeps it rocking.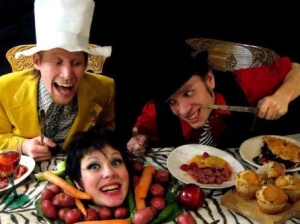 This Way To the Egress(Alternative/Indie)

With a firm musical base of ol' timey roots, EGRESS weaves elements of klezmer, balkan, blues, ragtime, swing, and punk-rock into whiskey-soaked melodies, upbeat rhythms, and infectious refrains. All the while they fuse their eclectic sounds with visual antics such as confetti snow storms, tuba farts, and puppets of various sorts. In the process, they create a modern slant on the good old days of Vaudeville and present a performance unique from any other in their genre.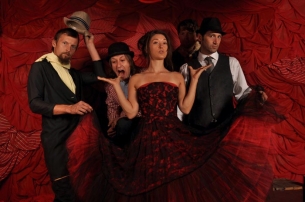 Crystal Bright & The Silver Hands(Rock/Pop)

Crystal Bright & The Silver Hands has an eclectic, haunting but yet whimsical, carnivalesque world folk sound. Singer/Songwriter Crystal Bright plays accordion, musical saw, concertina, piano, Taiko drum, adungu (Ugandan harp), and various others, leaving people captivated with her operatic & soulful vocals and virtuoso command of her exotic instruments.