Are you feeling lucky?  We're going on a day trip -- and you're invited!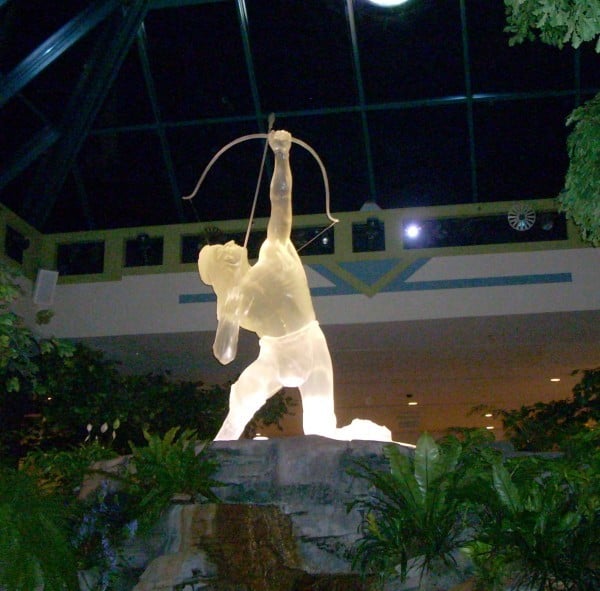 We're going to spend the afternoon at Foxwoods, which is the largest casino in North America. It contains 7,000 slot machines, hundreds of table games, Keno, Bingo, poker and horseracing. The resort complex is home to three hotels, more than 25 dining options, the 1,400-seat Fox Theatre, Club BB, a Hard Rock Cafe and the Mashantucket Pequot Museum, which is a five-minute shuttle ride away.  Here's a map of the resort (PDF).
This will be a Meetup composed of a number of different groups. You can come and go at any time, although we'll have a couple of optional meetup points during the day.
• 1:00pm - In front of the Rainmaker statue.  We'll mix and mingle, then go play some cards or hit the slots.
• 3:00pm - In front of the Tree House arcade.  Bring out the inner kid in you at the Tree House arcade.  Over 100 video games (including classic arcade games), pinball machines, skeeball, and a virtual roller coaster (we're not kidding)
• 5:00pm - In front of the Rainmaker statue.  For those who haven't lost all of their money, they can continue to gamble throughout the night.  Many of us will go find a place to eat at one of the many restaurants in the casino.
WHAT TO DO:
Even if you're not a gambler, playing the penny slots can be fun. It's true that $15 can last an hour or more if you play the 1 cent, 5 cent, 25 cent, and 50 cent machines — and plow your meager winnings back in.  Of course, there's no rule that says you can't wager your own money and indulge in higher-minimum slot machines, bingo, keno, or table games such as blackjack, baccarat, or pai gow that actually require some skill. If your winnings are burning a hole in your pocket, a modest shopping concourse tempts with Native American artifacts, men's and women's clothing and athletic gear, shoes, purses, and jewelry.
WHAT YOU NEED TO KNOW:
• This is a multi-group meetup! More details to follow.
• Smoking is allowed in the casino, although there are a number of non-smoking areas. The Rainmaker Casino and Great Cedar Casino have non-smoking slot areas. the Great Cedar Casino is a smoke-free Gaming area.  There are also  specific tables as "no smoking" in the Rainmaker and Grand Pequot Casinos, as well as at the MGM Grand at Foxwoods.

HOW TO GET THERE:
Whether you are interested in seeing the Waterfires later in the night, or just want to play at Foxwoods, we strongly recommend carpooling.  I expect that a couple of people will be offering rides -- please let us know if you are driving or need a ride in the comments section below.
By Car: Take I-95 South to Exit 92 in Connecticut. Go straight at the stoplight. At the next stoplight, turn right onto Route 2 West for eight miles. Take the Foxwoods Blvd exit.
By Bus: There are a number of bus lines that travel to Foxwoods.  You can find more information on what's available on Foxwoods' web site.  There's also Asian Bus Lines that go down regularly -- here are their schedules (http://www.foxwoods.com/uploadedFiles/Pages/About_Foxwoods/AsianBusSchedule.pdf)