Announcing a new Meetup for South Florida Events!
What
:
This Thursday Night !! RollerSkating!!
When
: Thursday, July 29,[masked]:30 PM
Where
: Galaxy Skating Center
3737 Davie Road Ext
Davie, FL 33324
(954)[masked]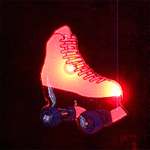 It's time for a little flashback into our childhoods. Strap on your skates, and invest in a glow necklace, because we're bringing the 80's and 90's back! We're the New Kids on the Block, and we'll be Hangin' Tough!
We are teaming up with the Sporting Out meetup group and Christian Singles and Odyssey group, There are 34 RSVP yes'es so far!! Come out and socialize and have fun.
call me[masked] or text or email if you get lost or have any questions
RSVP to this Meetup:
http://www.meetup.com/South-Florida-Events/calendar/14238452/