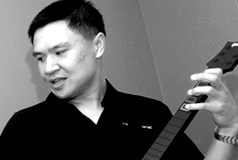 Join us September 19 as Startup Grind welcomes Charles Huang, the co-founder ofRedOctane and publisher of Guitar Hero, which many consider to be the most influential video game of the past decade. Guitar Hero became one of a handful of billion-dollar video game franchises in history and the third largest after Mario and Madden NFL. Charles was the EVP of Business Development at RedOctane and founded by him and his brother, Kai. Later that year the company launched the world's first online video game rental service.
In 2005, RedOctane published Guitar Hero, which went on to become the fastest growing video game franchise ever. In 2006, Activision acquired their company. Prior to RedOctane, Charles co-founded Adux Software, a software company developing solutions for the server appliance market. Adux Software was sold in 1999. In 2006, Mr. Huang, along with his brother Kai, was elected as one of the top 50 producers in New Media by the Producers Guild of American New Media Council membership, which includes such famed movie directors as Jerry Bruckheimer and Brian Grazer. He is currently the co-founder of Green Throttle Games, a gaming company trying to help make fitness fun.
COST
THIS IS A PAID EVENT
Purchase your tickets here.
AGENDA
6:00 - Networking and Pizza
7:00 - Fireside Chat
8:00 - Questions and More Networking
WHAT IS STARTUP GRIND?
Startup Grind is an event series and website designed to help educate, inspire, and connect local entrepreneurs. Each month we welcome an amazing speaker who shares their story with our community and tells us what worked, what didn't, and what they'll do differently next time. It's an amazing opportunity to learn from the best, network with other members of the startup community, and improve your chances of entrepreneurial success.
For more information visit www.StartupGrind.com or follow us on twitter @StartupGrind.
HOSTED BY
Dave will be interviewed by Startup Grind founder Derek Andersen. Derek worked at Electronic Arts on games like The Godfather, Burnout, and Mirror's Edge. He left in 2009 to found Vaporware Labs, a company that has launched products like Startup Grind, Commonred, and Steve Young Football. He's also a contributing author for Techcrunch and Business Insider.
Twitter: @derekjandersen