Startups Bootcamp
April 13 Sat 2013
Palo Alto, CA
9:00am - 6:00pm
Fees
$60 (with GITPRO-ONLIINE) otherwise $75.
Group (3+) Rate: $50 per person
Startup Attendees can attend Technology and Leadership Sessions too
Startup Bootcamp at GITPRO World 2013 conference provides an unique opportunity for aspiring and early stage entrepreneurs to know everything needed to succeed in startup.
Amit Shah, VC from Artiman Ventures who also has been a successful serial entrepreneur will share Know-How for start to successful exit for startups. He will share from practical guidance for all different aspects of startup. Learn from VCs like Ryan Flyod from Storm Ventures and Navin Bisht on how to raise investment. Master about Lean Startup Methodology from Triston Kromer about how to define Minimum Value Product, How to develop customers and how to pivote when necessary. Network with to meet industry leaders, executives, and fellow entrepreneurs .
Great opportunity for Entrepreneurs:
Startup bootcamp for early stage startups and Wanna-be-Entrepreneurs
Network with Professionals, VCs, Experts, Executives and Startups CEOs
Speakers:
CEOs and Executives
Invited speakers from startups to leading industries
Mentors and Coaches
Successful Entrepreneurs
VCs and Investors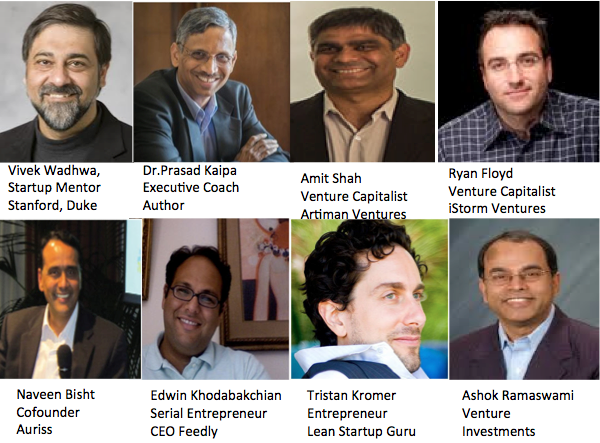 Venue: Jewish Conference Center, 3921 Fabian Way, Palo Alto, CA.
Program:
Startup Attendees can attend Technology and Leadership Sessions. Tech Track has sessions on Big Data, Cloud, Mobile and Social Computing.
http://gitpro.org/git...
­
Time Slot
Startup Track
9:00-10:00 Next Billion Dollars Opportunities: Vivek Wadhwa(Serial Entrepreneur and now Startup Mentor at Stanford)
10:30-12:00
Mastering Startup Success Path: Starting to Selling Startup: Amit Shah, Serial Entrepreneur and VC (Artiman Ventures)
12:00-1:00 Lunch
1:00-2:15 How to Raise Investment from Angels and VCs: Ryan Flyod (Storm Ventures), Ashok Ramaswamy(Investments), Naveen Bisht(Serial Entrepreneur)
2:30-3:30 Marketing and Selling for Startups: Jose Lazares (Business Advisor)
3:30-4:450 Mastering Lean Startup Concepts: Triston Kromer (Entrepreneur and LSM Expert)
5:30-6:00 Become Smart to Wise Leader: Dr. Prasad Kaipa (Executive Coach)