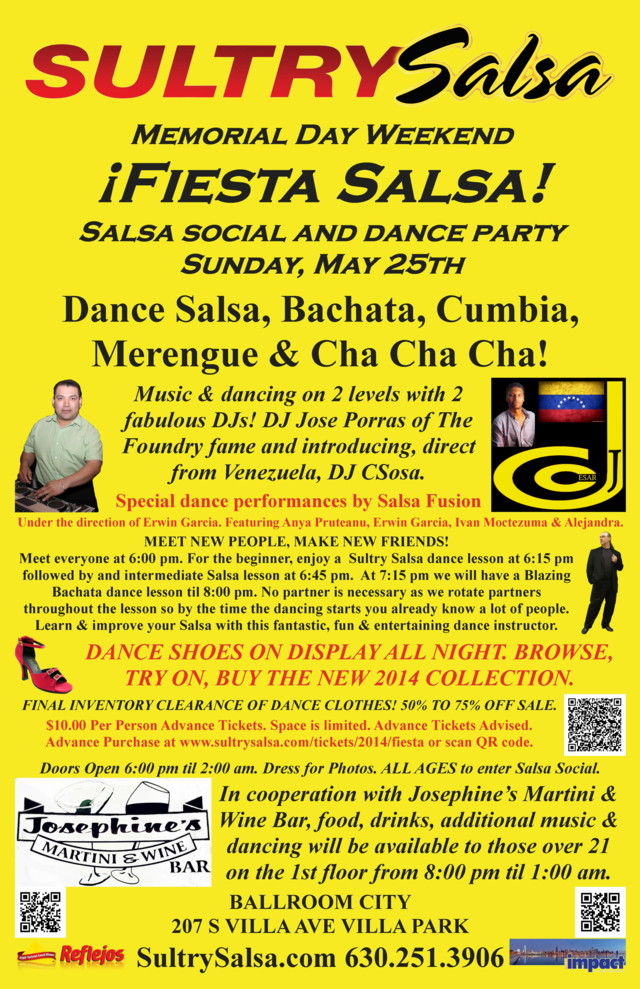 ¡Fiesta Salsa!
Memorial Day Weekend Salsa Social

MEET NEW PEOPLE, MAKE NEW FRIENDS!
Dance Salsa, Bachata, Cumbia, Merengue and Cha Cha Cha!
Music & dancing on 2 levels with 2 fabulous DJs! DJ Jose Porras of The Foundry fame and introducing, direct from Venezuela, DJ CSosa.
Special dance performances by Salsa Fusion
Under the direction of Erwin Garcia. Featuring Anya Pruteanu, Erwin Garcia, Ivan Moctezuma & Alejandra.
Meet everyone at 6:00 pm. For the beginner, enjoy a Sultry Salsa dance lesson at 6:15 pm followed by and intermediate Salsa lesson at 6:45 pm. At 7:15 pm we will have a Blazing Bachata dance lesson til 8:00 pm. No partner is necessary as we rotate partners throughout the lesson so by the time the dancing starts you already know a lot of people. Learn & improve your Salsa with this fantastic, fun & entertaining dance instructor.
DANCE SHOES ON DISPLAY ALL NIGHT. BROWSE, TRY ON, BUY THE NEW 2014 COLLECTION.
FINAL INVENTORY CLEARANCE OF DANCE CLOTHES! 50% TO 75% OFF SALE
Doors Open 6:00 pm til 2:00 am. Dress for Photos. ALL AGES to enter Salsa Social.
In cooperation with Josephine's Martini & Wine Bar, food, drinks, additional music & dancing will be available to those over 21 on the 1st floor from 8:00 pm til 2:00 am.
$10.00 Per Person Advance Tickets. Space is limited. Advance Tickets Advised.
I look forward to seeing you there!
El Barón,
Jed Walker