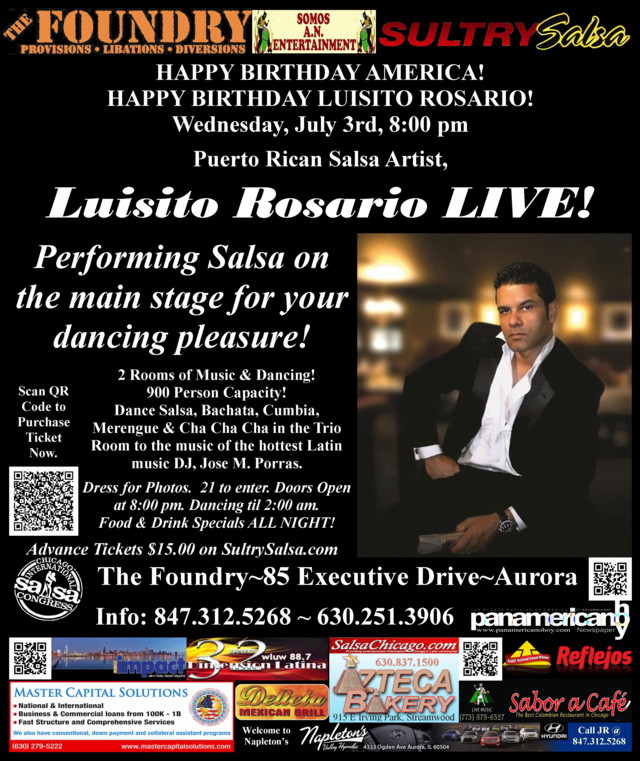 Happy Birthday America!

Happy Birthday Luisito!

Luisito Rosario LIVE!
Wednesday, July 3, 2013, at The Foundry

We are thrilled to present, for your dancing pleasure and enjoyment, returning to Chicago by popular demand after his highly successful appearance at the 2013 Chicago International Salsa Congress.
Puerto Rican Salsa Singer Luisito Rosario
Performing Salsa on the main stage of The Foundry for your dancing pleasure!

Celebrating the birth of America and Luisito's own birthday, too!

Bringing Sultry Salsa to the Suburbs for the Latin Dance Party of the Century!

Taking over the entire complex.

2 Rooms of Music! 900 Person Capacity!

Live Salsa Band and DJ on the first floor.

Dance Salsa and Cha Cha Cha in front of the main stage on the first floor.

Dance Bachata, Merengue and Cumbia in the second floor Trio Room to the music of Jose M. Porras!

Doors Open at 8:00 pm. Dancing til 2:00 am.

Dress for Photos. 21 to enter.

Food & Drink Specials ALL NIGHT!
Deeply Discounted Advance Purchase Tickets Available for a Limited Time Only!
General Admission Advance Tickets $15.00. Get your tickets today!
4 Tickets PLUS A RESERVED TABLE in front of the stage: $80.00
8 Tickets PLUS A RESERVED TABLE in front of the stage: $160.00
Tickets & tables available online a
Luisito Rosario's Birthday Bash
http:// www.sultrysalsa.com/ tickets/2013/foundry/ rosario/

I look forward to seeing you there!

El Barón,
Jed Walker

A COMPLIMENTARY Casino Rueda lesson at 8:15 pm in the Trio Room. Improve your Rueda with this fantastic, fun and entertaining dance instructor. NO PARTNER IS NECESSARY as we rotate partners throughout the lesson so by the time the dancing starts you already know a lot of people.

TIME TO PARTY, SULTRY SALSA STYLE!

The Foundry is THE place to dance!
---

THANK YOU SO MUCH FOR YOUR PARTICIPATION AND SUPPORT OF SULTRY SALSA IN THE SUBURBS!
---
Location
The Foundry
85 Executive Drive
Aurora, Illinois 60504
View a Map of the area and get Directions
---
AS A MEMBER OF SULTRY SALSA, YOU WILL ALWAYS BE "IN THE KNOW" IN REGARDS ALL THE CURRENT SALSA HAPPENINGS AND EVENTS.PLEASE FORWARD THIS EMAIL TO ALL OF YOUR FRIENDS. TELL THEM TO VISIT SULTRY SALSAAND SIGN UP TO RECEIVE NOTIFICATION OF LATIN CLUBS, CONCERTS AND EVENTS IN CHICAGOLAND.

---
Sponsors and Co-Promotional Friends
---
Reflejos Bilingual Newspaper on Facebook
http://www.facebook.com/ReflejosNewspaper

---
NAHP National Award Winning, Reflejos Bilingual Newspaper, An Inspirational Journal reflecting excellence in the Latino community.
http://www.reflejos.com/en/default.aspx
---
http://www.facebook.com/NuevoImpact
---
NUEVO IMPACT is dedicated to helping Hispanic families thrive.