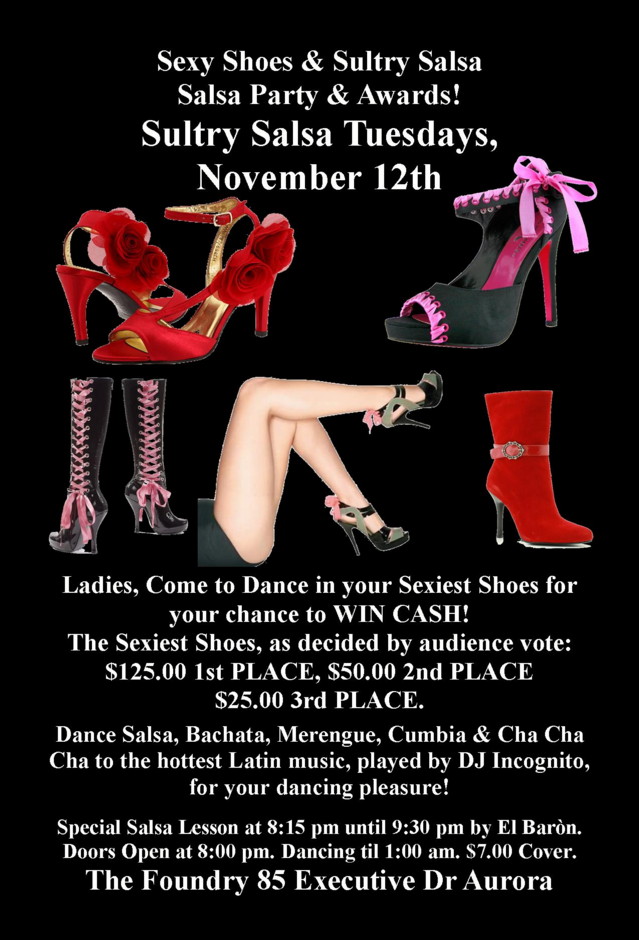 Sexy Shoes & Sultry Salsa! Salsa Party & Awards. Sultry Salsa Tuesdays, November 12th
Ladies, Come to Dance in your Sexiest Shoes for your chance to WIN CASH!
The Sexiest Shoes Awards, as decided by audience vote:
$[masked]st PLACE $[masked]nd PLACE  $[masked]rd PLACE
Dance Salsa, Bachata, Cumbia, Merengue, & Cha Cha Cha to the hottest Latin music DJ in the suburbs, DJ Incognito playing his best Salsa, Bachata, Cumbia, Merengue, and Cha Cha Cha for your dancing pleasure!
I hope you will join us for the fun!
Jed
CLICK HERE TO CHECK OUT THE VIDEO AND PHOTOS OF OUR MOST RECENT SEXY SHOES AND SULTRY SALSA! SALSA PARTY AND AWARDS. JOIN US AT THE FOUNDRY NOVEMBER 12th FOR ANOTHER GREAT NIGHT OF DANCING SALSA!
http://www.sultrysalsa.com/photos/2013/foundry/072613.html
TIME TO PARTY, SULTRY SALSA STYLE!
The Foundry, where we build better dancers. RSVP NOW FOR THE SEXIEST SHOES & SULTRY SALSA SALSA PARTY & AWARDS!   Add your friends too! Email your name and the names of all of your friends to:
The Sexy Shoes and Sultry Salsa! Salsa Party and Awards.
or copy and paste this email address into a message,
subject: The Sexiest Shoes and Sultry Salsa! Salsa Party and Awards
The fun starts at 8:15 pm with a COMPLIMENTARY beginner Salsa lesson with Chicago International Salsa Congress instructor Jed Walker PLUS an intermediate level Salsa lesson at 8:45 pm until 9:30 pm. Exciting new dance moves that you can use every day taught every week. Learn and improve your Salsa with this fantastic, fun and entertaining dance instructor.
NO PARTNER IS NECESSARY as we rotate partners throughout the lesson so by the time the dancing starts you already know lots of people.   Dress for Photos. Huge, Free Parking Lot. 21 and over to Enter. $7.00 Cover Charge.  Location The Foundry 85 Executive Drive Aurora, Illinois 60504