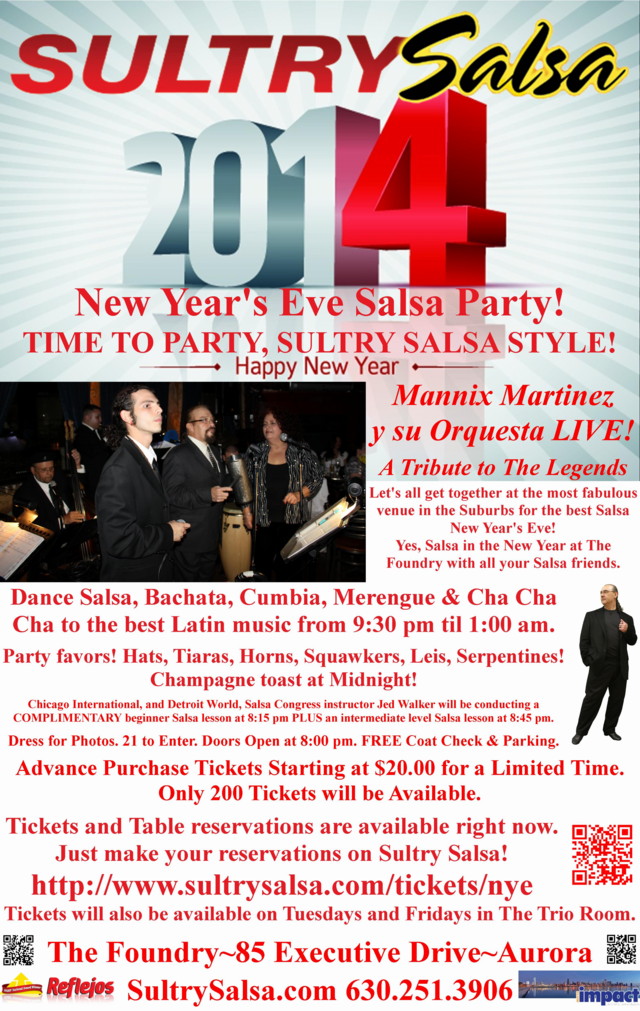 Let's all get together at the most fabulous venue in the suburbs for the best Salsa New Year's Eve!
Yes, Salsa in the New Year in the Trio Room at The Foundry with all your Salsa friends.
I can't wait! I already have my ticket. Don't wait. You don't want to miss out on the best Salsa New Year's Eve celebration!
ONLY 200 TICKETS WILL BE AVAILABLE! ONCE THEY ARE GONE, THAT'S IT.
Tickets are available right now. Just make your reservations on Sultry Salsa!
http://www.sultrysalsa.com/tickets/nye
Tickets will also be available on Tuesdays and Fridays in The Trio Room at The Foundry.
Dance Salsa, Bachata, Cumbia, Merengue & Cha Cha Cha from 9:30 pm until 1:00 am!
Party favors! Hats, Tiaras, Horns, Squawkers, Leis, Serpentines!
Champagne toast at Midnight!
Tell all your friends about the great night happening at The Foundry!
Dress for Photos. 21 to enter. Huge, Free Parking Lot.
Tickets are ONLY $20.00 before December 25th. $25.00 December 25th until December 31st. Tickets are $30.00 at the door.
Limited table reservations are available.
The fun starts at 8:15 pm with a COMPLIMENTARY beginner Salsa lesson with Chicago International and Detroit World Salsa Congress instructor Jed Walker PLUS an intermediate level Salsa lesson at 8:45 PM. Exciting new dance moves that you can use every day taught every week. Learn and improve your Salsa with this fantastic, fun and entertaining dance instructor.
NO PARTNER IS NECESSARY as we rotate partners throughout the lesson so by the time the dancing starts you already know a lot of people.
I am looking forward to seeing you there.
Thanks so much,
El Barón, Jed Walker
THANK YOU SO MUCH FOR YOUR PARTICIPATION AND SUPPORT OF SULTRY SALSA TUESDAYS IN THE SUBURBS!