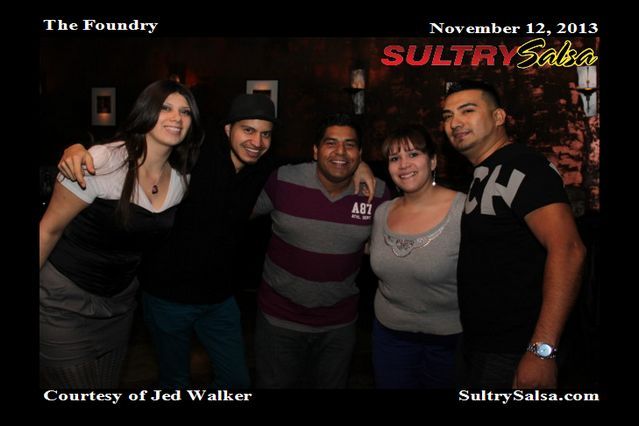 Dance with us this week and maybe you will be our cover photo next week!
Sultry Salsa Tuesdays
Sultry Salsa in the Suburbs!
WOW! What a GREAT night of fun, friends and dancing we had last Tuesday night on Sultry Salsa Tuesdays at The Foundry!
---
WOW! Well, the word I heard is that just about EVERYBODY is heading over to The Foundry tonight to dance Salsa, Bachata, Merengue, Cumbia and Cha Cha Cha to the music of Impacto Boricua AND to dance a Sultry Salsa Birthday dance with Amanda Bellino in celebration of her birthday! Join us tonight for the fun! Please tell your friends and bring them too!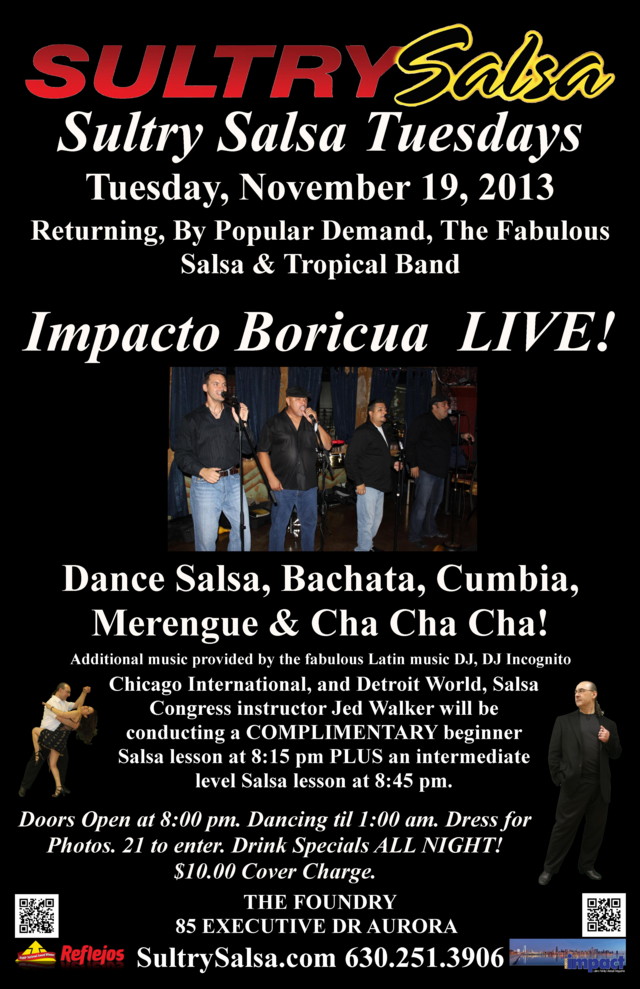 We are thrilled to announce, Returning, By Popular Demand, The Fabulous Salsa and Tropical Band, Impacto Boricua LIVE!

Dance Salsa, Bachata, Cumbia, Merengue & Cha Cha Cha!
---
Join your friends for
Sultry Salsa Tuesdays
Sultry Salsa in the Suburbs!
A FULL HOUSE IS EXPECTED ON SULTRY SALSA TUESDAYS, NOVEMBER 19th with Impacto Boricua performing Salsa, Cumbia, Merengue, Bachata and Cha Cha Cha for your dancing pleasure at The Foundry! Amanda Bellino will be celebrating her Sultry Salsa birthday with a special birthday dance with YOU!
TUESDAY, NOVEMBER 19th
COME HELP AMANDA
CELEBRATE HER BIRTHDAY TUESDAY
WITH A SULTRY SALSA BIRTHDAY DANCE!
---
I am looking forward to seeing you there.


Thanks for coming,
---
The fun starts at 8:15 pm with a COMPLIMENTARY beginner Salsa lesson with Chicago International Salsa Congress instructor Jed Walker PLUS an intermediate level Salsa lesson at 8:45 pm until 9:30 pm. Exciting new dance moves that you can use every day taught every week. Learn and improve your Salsa with this fantastic, fun and entertaining dance instructor.

NO PARTNER IS NECESSARY as we rotate partners throughout the lesson so by the time the dancing starts you already know lots of people.
Dress for Photos. Huge, Free Parking Lot.
21 and over to Enter. $7.00 Cover Charge.
Dance Salsa, Merengue, Bachata, Cumbia & Cha Cha Cha to music by the fabulous Latin music DJ until 1:00 am!
I am looking forward to seeing you there.


Thanks for coming,
THANK YOU SO MUCH FOR YOUR PARTICIPATION AND SUPPORT OF SULTRY SALSA IN THE SUBURBS!
---
Location
The Foundry
85 Executive Drive
Aurora, Illinois 60504
---
AS A MEMBER OF SULTRY SALSA, YOU WILL ALWAYS BE "IN THE KNOW" IN REGARDS ALL THE CURRENT SALSA HAPPENINGS AND EVENTS.
PLEASE FORWARD THIS EMAIL TO ALL OF YOUR FRIENDS.
NOTIFICATION OF LATIN CLUBS, CONCERTS AND EVENTS IN CHICAGOLAND.
---
Sponsors and Co-Promotional Friends
---