We are a group of people who have traveled together in the past and are looking for new friends to travel with. The more, the merrier. So if you are interested in making new friends and traveling around the Tampa bay area the United States or the world come meet us. You'll be happy you did. Help us plan trips for the future and new adventures. We will be meeting up for happy hours, dinners, movies and weekend excursions. Basically, anything anyone comes up with that is fun to do as a group. We're not just a travel group.TAMPA-TRAVEL-AND-MEETUP-GROUP is also an adventure Group Our current membership is comprised of predominately singles, with about 20 percent couples. We have members of all ages, but mainly over 40 and with the majority in the 45 to 60 age bracket. We are open to everyone from all walks of life. We go boating hiking bike riding swimming lots of physical events to stay in shape for traveling.
LEGAL DISCLAIMER AND LIABILITY INFORMATION:
By joining this group, RSVP'ing to events, and attending events, you are confirming that you have read, understand and accept the following:

1. TAMPA-TRAVEL-AND-MEETUP-GROUP is a meetup group. Attending events or Trips is voluntary by you as a member. Participation in any activity with us is at your own risk.
2. By joining TAMPA-TRAVEL-AND-MEETUP-GROUP as a member you agree to indemnify and hold harmless TAMPA-TRAVEL-AND-MEETUP-GROUP, its organizers, co-organizers, assistant organizers, event hosts, and other members from all claims or liability of every type (including court costs and legal fees) for injury or death to any person or for damage to property, loss of personal property or any other wrongful act arising out of or relating to your participation as a member. This agreement applies to you and to other persons (as your guests) who may accompany you in these endeavors.
3. You also agree to hold the organizers as well as other group members harmless. By participating voluntarily in the group, you expressly waive any and all such claims against each and every other member in the group, including without limitation any and all claims against the group organizer, co-organizers, assistant organizers, and event hosts.
5. Any social events or trip that TAMPA-TRAVEL-AND-MEETUP-GROUP sponsors and holds will fall also under the same Disclaimer and Liability guidelines listed above.
Please upload at least 1 personal/recognizable photo of yourself to your profile when you join!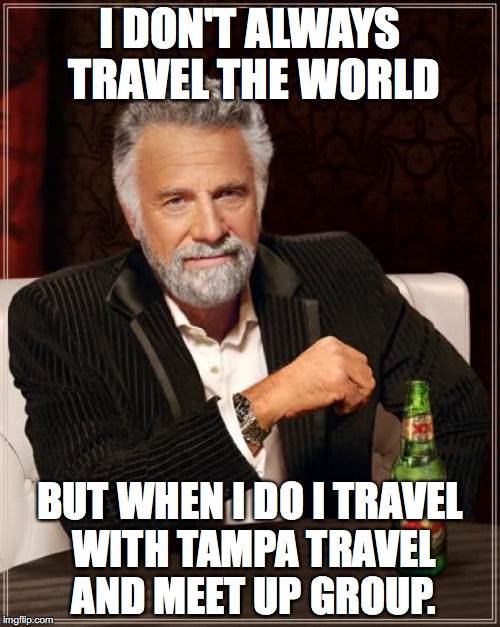 https://www.youtube.com/watch?v=4C5HhHdCTWA
https://www.youtube.com/watch?v=cnqFSjPIJe4
https://www.youtube.com/watch?v=jABXMMI9bRw
https://www.youtube.com/watch?v=Yz7ch_rl7ss
https://www.youtube.com/watch?v=UGnrT0F-Igs&list=PL7AC9B978FCA49BEE&index=12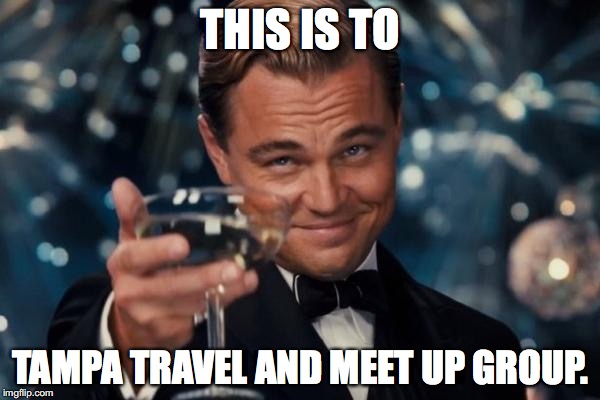 So come join us the fastest growing meetup in the Tampa Bay Area and let the fun and adventures began